ESPN's GameDay to Spotlight Monon Bell Rivalry
November 9, 2007
Also: HDNet to Televise 114th Monon Bell Classic
Also: List of Alumni Telecast Parties
Also: Parking & Game Day Information
Also: Order Your Monon Bell DVD
Also: Official Monon Bell Web Site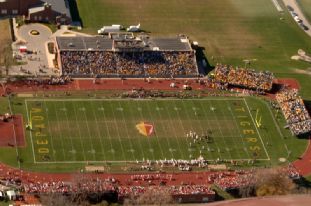 November 9, 2007, Greencastle, Ind. - "The annual Wabash and DePauw football rivalry will receive national recognition Saturday," reports today's Crawfordsville Journal Review. In addition to the telecast of the game itself, which will air on HDNet, "The ESPN College Football Gameday crew of Chris Fowler, Kirk Herbstreit and Lee Corso have decided to devote this weekend to featuring some of the under-the-radar rivalries. The crew will be live at Williamstown, Mass.,

Saturday for the Amherst College/Williams College rivalry." Matt Wilson notes, "During Saturday's GameDay show, ESPN will show highlight clips to promo the 114th playing of the Monon Bell Classic at Greencastle's Blackstock Stadium."

[Download Video: "Ballad of the Monon Bell - 2007 Version" - 10,419kb]

[Download Audio: "Ballad of the Monon Bell - Stereo" - 2514kb]
Today's Indianapolis Star also reports, "The Wabash-DePauw rivalry is planned as part of a discussion on Saturday's ESPN College GameDay show." Jeff Rabjohns points out, "One of GameDay's topics is small-college
rivalries and ESPN has requested video from both Wabash and DePauw. Commentator Lee Corso and former DePauw coach Nick Mourouzis coached together at Indiana University in the early 1970s."

[Download Video: "2004 Monon Memory" - 7774kb]
The actual game telecast starts at 1 p.m. on HDNet with kickoff slated for 1:07. All 8,000 seats in Blackstock Stadium sold out within days of becoming available. Telecast parties are now scheduled in 62 cities across the United States. A DVD of the game, which will include bonus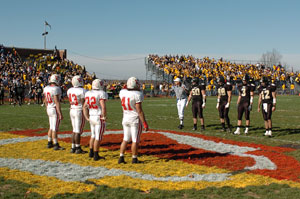 materials, is available for pre-order.

[Download Video: "1939 Monon Memory" - 4627kb]
Wilson notes that Wabash enters the game with a 9-0 record and ranked #9 in NCAA Division III, while DePauw is 7-2 and has defeated its last three opponents. "With the last three Monon Bell games being decided by single digits, another close game should be fully expected. There certainly is plenty on the line Saturday."

[Download Video: "1965 Monon Memory" - 3120kb]
Read more at the sites of the Journal Review and Star.
Visit DePauw's official Monon Bell Web page, where you'll find historic information including statistics and "Monon Memories" of past games.
Back