"The Stuff of Lore," 114th Monon Bell Classic Kicks Off at 1:07
November 10, 2007
Also: HDNet to Televise 114th Monon Bell Classic
Also: List of Alumni Telecast Parties
Also: Parking & Game Day Information
Also: Order Your Monon Bell DVD
November 10, 2007, Greencastle, Ind. - "The Monon Bell Classic has long been more than a football game between two small colleges 27 miles apart," begins a story in this morning's Indianapolis Star. "The annual November clash between Wabash and DePauw is the stuff of lore, a colorful rivalry for possession of the 300-pound Monon Bell that has been chronicled in Sports Illustrated and the Wall Street Journal and broadcast live on ABC and ESPN. The combatants in college football's 12th oldest rivalry will meet for the 114th time today, at DePauw's Blackstock Stadium."

[Download Video: "Ballad of the Monon Bell - 2007 Version" - 10,419kb]

[Download Audio: "Ballad of the Monon Bell - Stereo" - 2514kb]
Jeff Rabjohns writes, "While the Bell defines the rivalry and draws the eyes of
alumni around the nation from both schools, what's often overlooked is that the game pits two of the most successful programs in small-college football history. Wabash has the sixth most victories of any NCAA Division III team with 584 in 121 years. DePauw is 19th in victories at 515 in 120 years of playing football." The Star adds, "Being among the 19 winningest programs in Division III is particularly significant because the division has far more teams (235) than I-A (119), I-AA (117) or Division II (156). Wabash is 584-368-59 all time, DePauw 515-455-41. They are two of only 25 Division III teams with 500 or more victories."

[Download Video: "2000 Monon Memory" - 3239kb]
"It does get overlooked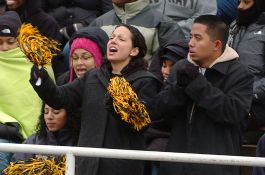 a little bit, maybe by the average fan or the people who just get into the Monon and all the hype, but it doesn't go unseen by the current coaches and players," DePauw head coach Matt Walker tells the newspaper. A 1999 graduate of the University, Walker played in the Bell rivalry and saw games while growing up in Crawfordsville. "They understand the ramifications of how good each team is. In a game that doesn't need anything to make it more special, we have it added. We're two of the teams in Division III with 500 wins, and it's safe to say both programs are on the verge of being as good as they've been."

[Download Video: "1942 Monon Memory" - 4396kb]
Rabjohns points out that "DePauw is 7-2, with losses to two nationally ranked teams.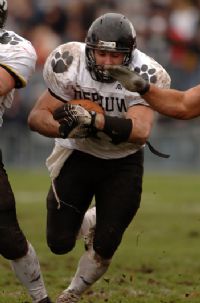 Wabash is 9-0 and ranked seventh in the nation in the American Football Coaches Association poll ... The series is nearly even. Wabash leads 53-51-9, but the Tigers have a 35-34-6 edge since the addition of the Monon Bell, which has been stolen at least eight times and once was buried in the DePauw end zone for nearly a year to prevent a theft. Both schools have some of their best players this year, Wabash with all-time leading tackler Adrian Pynenberg, DePauw with all-time leading rusher Jeremiah Marks."�

[Download Video: "2004 Monon Memory" - 7774kb]
A sidebar column notes that the game will be televised on HDNet and can also be heard on DePauw student radio station WGRE (91.5 FM or via this link) with kickoff slated for 1:07. ESPN's GameDay is also scheduled to feature a Monon Bell preview today. All 8,000 seats in Blackstock Stadium sold out within days of becoming available. Telecast parties are now scheduled in 62 cities across the United States. A DVD of
the game, which will include bonus materials, is available for pre-order.

[Download Video: "1932 Monon Memory" - 3518kb]
Read the complete article, headlined "Braced for bell-ringer: Little Giants and Tigers meet for 114th time in college football's 12th oldest rivalry," at the Star's Web site.

[Download Video: "1974 Monon Memory" - 2911kb]
Visit DePauw's official Monon Bell Web page, where you'll find historic information including statistics and "Monon Memories" of past games.
Back