Havercamp Nails Field Goal as Time Expires and Brings Bell Back to Greencastle
November 10, 2007
BOX SCORE - PHOTO GALLERY -|

[Download Video: "Monon Bell Game-winner" - 3822kb] - ORDER YOUR MONON BELL DVD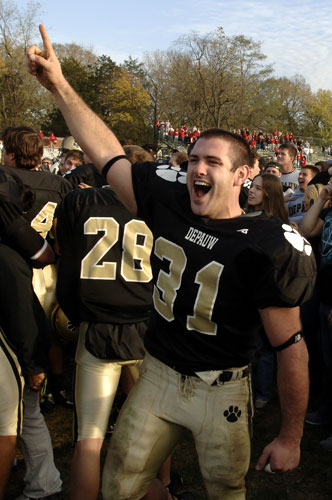 November 10, 2007, Greencastle, Ind. - Sophomore transfer Jordan Havercamp saved the right time to connect on his first collegiate field goal as he nailed a 47-yard field goal as time expired in DePauw's 24-21 Monon Bell victory over visiting and ninth-ranked Wabash.
Havercamp, who played at Denison University last year and missed his only field goal attempt as a freshman, was called upon to try his first as a Tiger with 2.4 seconds on the clock. His kick sailed through the north end zone uprights as the game-ending sirens sounded lifting DePauw to an 8-2 record and dropping the Little Giants to 9-1 and snapping their 13-game win streak.
Trailing 21-13, DePauw tied the game on Jeremiah Marks' (pictured right) 8-yard pass from Spud Dick and a subsequent two-point conversion pass from Dick to Alex Koors with 3:37 left. The drive, the Tigers' longest of the season, consumed nearly half of the fourth quarter and covered 83 yards in 15 plays.
Wabash started at its own 30 and seven plays drove to the DePauw 35 before the Tigers' cornerback Jevon Pruitt picked off Matt Hudson's fourth-down pass at the DePauw 4 with 1:23 left.
Marks moved the Tigers to the 24 with three carries totaling 20 yards including an 11-yard pickup on third down. After an incomplete pass Marks, carried for 14 to the Tigers' 38 and Dick connected with Bryan Mulligan for a 19-yard gain to the Little Giants' 43.
After a 6-yard completion from Dick to Mulligan, Marks caught an 8-yarder to the 29 and got out-of bounds with 2.4 seconds left and set up the game winner.
After a scoreless first, Wabash struck first as Hudson faked two handoffs and walked in from the 1. Drew Oehler's extra point made it 7-0 with 13:25 left in the half. Wabash was called for offsides on the ensuing kickoff and then kicked the ball out-of-bounds and DePauw started from the Little Giants' 46.
Eight plays later the Tigers reached paydirt on Dick's 10-yard pass to Mulligan and Havercamp's extra point tied the score at 7-7 with 9:07 remaining in the half.
Wabash wasted little time in answering as C.P. Porter scored on a 2-yard run with 6:29 left which was set up by the previous play - a 38-yard pass from Hudson to Mike Russell.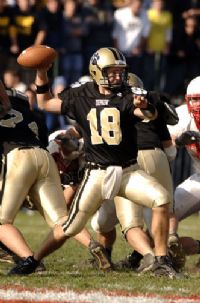 The Tigers looked poised to tie the game near the end of the half as they drove to the Wabash 3. Marks was stopped for no gain on first down and ran for a yard to the 2 on second. Dick completed a pass to fullback Brett Claxton who was stopped inside the 1 by Adi Pynenberg. Dick's fourth-down pass fell incomplete and Wabash ended the half on the next play.
DePauw took the second half kickoff and marched 55 yards in eight plays capped by Dick's 36-yard pass to Marks. With the touchdown, Marks broke the Southern Collegiate Athletic Conference career scoring and total touchdown records. Havercamp's extra point was off the mark and Wabash maintained a 14-13 lead with 10:09 remaining in the half.
Later in the third DePauw drove to the Wabash 20 but turned the ball over on downs and Wabash needed just four plays to extend the margin to 21-13 on Hudson's 65-yard strike to Bart Banach with 51 seconds left in the quarter.
Marks finished with 181 yards on a school-record 45 carries breaking the old mark set by Bart Simpson on this date in 1973. Dick completed 28-of-35 passes for 300 yards and three touchdowns and was 27-of-33 after an interception on the first series.
Mulligan set a Monon Bell record with 15 catches which totaled 145 yards, while Marks hauled in seven for 97 yards for the fourth-best all-purpose game in DePauw history with 278 yards.
Hudson completed 21-of-33 for 322 yards with eight going to Russell for 151 yards and seven to Brock Graham covering 50. C.P. Porter paced the rushing attack with 27 yards on six carries.
Pruitt and Tarren Collins each led the Tigers with seven tackles, while Pruitt added two breakups to his interception. Pynenberg paced the Little Giants with 19 tackles, while Thomas Bell and Rich Lehmann each had 10.
DePauw outgained Wabash 485-383 and held a 38:29-21:31 time of possession edge.
Wabash still leads the all-time series 53-52-9, while DePauw extended its lead in games played for the Monon Bell to 36-34-6.
NOTES: Today marked the six-year anniversary of the "Monon Miracle" when Wabash scored on the last play of the game which started with 2.7 seconds left and ended with a 52-yard pass from Jake Knott to Kurt Casper after a tip by Wabash's Ryan Short ... In 1955, Fred "The Toe" Williams booted an 18-yard field goal as time expired to lift DePauw to a 23-20 win. It was Williams' only field goal of the season ... Each of the last three Monon Bell games have ended in three-point margins.
Back