A Come-From-Behind Monon Thriller Returns the Bell to DePauw, 24-21
November 10, 2007

[Download Video: "2007 Monon Memory" - 7808kb]; Visit 2007 Monon Bell Photo Gallery; Order Your Monon Bell DVD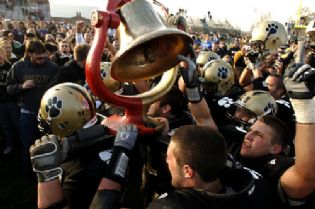 November 10, 2007, Greencastle, Ind. -

[Download Video: "A Fantastic Finish" - 3822kb] The 114th football battle between DePauw University and Wabash College is one they'll be talking about many years from now. Sophomore Jordan Havercamp connected on a 47 yard field goal -- his second career 3-point attempt and first this season -- as time expired, giving the Tigers a thrilling, come from behind victory over the Little Giants, who came into the game 9-0 and ranked #7 in NCAA Division III.
DePauw ends its season with an 8-2 record. Wabash takes a 9-1 record into the playoffs, which begin next weekend.
Havercamp, who transferred to DePauw from Denison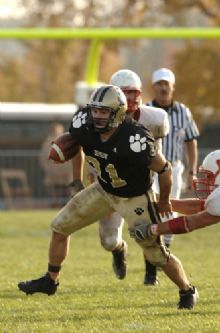 University, had one unsuccessful field goal attempt for his former school last season. The ball sailed right through the middle of the uprights, and DePauw fans responded by storming the field in celebrating the Tigers' first Bell triumph since 2004.
The Tigers got the ball back with 1:23 left to play after Jevon Pruitt intercepted a Matt Hudson pass at the DePauw 4 yard line. The home team marched down the field and set up the game-winning field goal with a series of plays that culminated with a time out called with 2 seconds left on the clock.
During the time out, DePauw coach Matt Walker '99 told his players,

[Download Video: "Coach Walker '99 Speaks" - 2811kb] "Guys, there's not too many times you get a chance with a dead ball to go out on the field and say this play is going to decide the chance to take home the Monon Bell or not. And I said, 'Do everything you can. They're saying the same thing, they're gonna come as hard as they can, and let's go get the Monon Bell' and everybody came through. What a great football game," he exclaimed, calling it "an atmosphere unlike any other in college sports."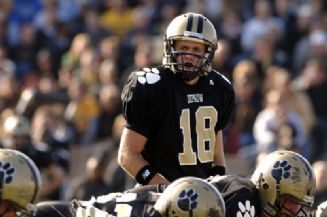 Senior Jeremiah Marks (pictured above right) carried the ball a DePauw-record 45 times for 181 yards and caught 7 passes for 97 yards and two touchdowns. Sophomore quarterback Spud Dick (left) completed 28-of-35 throws for 300 yards and three touchdowns. Bryan Mulligan, a sophomore wide receiver, caught 15 passes for 145 yards and a score.
Wabash got the scoring started in the second quarter when quarterback Matt Hudson ran the ball in from a yard out, and it was 7-0.

[Download Video: "Wabash Takes a Lead" - 726kb]
DePauw tied it about 4 minutes later when Dick found Mulligan on a 10 yard scoring connection.

[Download Video: "Tigers Roar Back" - 1021kb]
Another 3 minutes elapsed on the game clock and Wabash regained a seven point advantage when C.P. Porter scored from 2 yards out.

[Download Video: "14-7 Little Giants" - 1222kb] The Little Giants went to the half with a 14-7 lead after stopping a late DePauw drive at the 1 yard line.
In the third quarter, Dick shoveled a pass to Marks who scampered 36 yards for a score.

[Download Video: "Dig This" - 1423kb] The extra point attempt was no good, however, making it 14-13 Wabash.
The Tigers trailed 21-13 in the fourth quarter when Dick connected with Marks on a shovel pass for a touchdown.

[Download Video: "Another Shovel Pass for TD" - 1119kb] DePauw went for the two point conversion and tied the game when Dick threw to Alex Koors, who dove into the end zone.

[Download Video: "All Tied Up" - 725kb]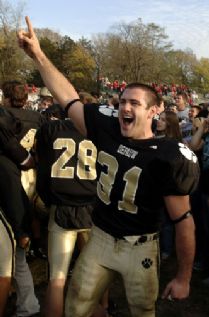 See the "Monon Memory" of today's thriller here:

[Download Video: "2007 Monon Memory" - 7808kb].
Wabash still leads the all-time series 53-52-9, while DePauw extended its lead in games played for the Monon Bell to 36-34-6.
Today's breathtaking finish recalled the 1955 Monon Bell Classic, which ended when Fred Williams was successful on his first career field goal attempt as time expired. That moment was captured on film and can be relived in this clip:

[Download Video: "1955 Monon Memory" - 6739kb].
Comprehensive coverage of today's thriller can be found at the football team's Web page. A photo gallery, including about 250 images from today's game, can be accessed here. Audio of WGRE's live broadcast of the game is archived here.
An Associated Press account of the game can be accessed here.
Back