Limited Edition Monon Bell DVD Now at Factory, Selling Fast
November 13, 2007
Also: Order Your Disc Online Here
Also: Game Recap with Video Highlights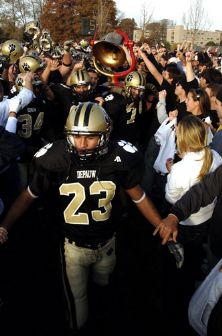 November 13, 2007, Greencastle, Ind. - Two days after the "Monon Miracle" -- a 47 yard field goal by DePauw sophomore Jordan Havercamp as time expired -- the University community and even viewers of ESPN are still buzzing. Just 48 hours after fans streamed onto the Blackstock Stadium turf to celebrate the Tigers' heroics, the commemorative DVD of the 114th Monon Bell Classic is on its way to a manufacturer to be replicated. The finished product should be on campus and ready to ship within three weeks.

[Download Video: "A Fantastic Finish" - 3822kb]
As announced when pre-order sales began October 4, DePauw and Wabash will only have 250 DVDs available, per school. By this afternoon, nearly half of DePauw's allotment of discs had been spoken for. The DVD sells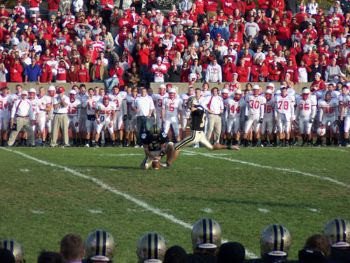 for $15 (plus $3 per order, regardless of size, for shipping). Place your order here.
"When they're gone, they're gone," says Ken Owen, executive director of media relations at DePauw and 1982 graduate of the University, who oversees the DVD project and authors the disc. The 2007 disc is the seventh Monon platter he's produced. Wabash's Jim Amidon again created the artwork for the disc jacket and the DVD itself. Photos by Amidon and DePauw's Matt Bowen grace the packaging and are seen in a photo gallery on the disc, as well as on the menus, which Bowen created.
"Like the annual game telecast, the DVD project is a true collaboration between DePauw and Wabash. We may glare at each other across the football field one Saturday each year, but we have great respect for each other and are working together to enhance an event which already generates a lot of attention and excitement."
The DVD has more than four hours of content, including every play of Saturday's game as televised by HDNet, all 69 of the "Monon
Memories" of past battles in the series that have been created to date, photo galleries featuring both this year's game and vintage images from the past (with more than 340 images in total), halftime spots from the two colleges, and the recently updated music video for the Ballad of the Monon Bell.

[Download Video: "Ballad of the Monon Bell - 2007 Version" - 10,419kb]

[Download Audio: "Ballad of the Monon Bell - Stereo" - 2514kb] The game will be presented on the DVD in anamorphic widescreen/16x9, as it appeared on HDNet.
The first six Monon Bell DVDs -- covering the games from 2001 through 2006 -- can be had for a special price of $10.
To order a 2007 Monon Bell DVD, and to get copies of previous year's DVDs, click here.
Access DePauw's Monon Bell Web page here. A complete roster of "Monon Memories" -- video highlights of past classics -- can be found here.
Back