Coach Matt Walker '99 Notches a Monon Series First
November 13, 2007
Also: Game Recap with Video Highlights
Also: Visit 2007 Monon Bell Photo Gallery
Also: Monon Bell DVD Information/Order Form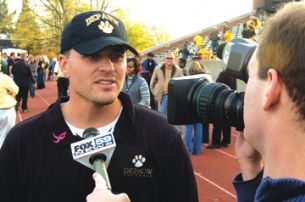 November 13, 2007, Greencastle, Ind. - "Matt Walker etched his name into the DePauw football record book with his team's stunning 24-21 victory," notes today's edition of the Paper of Montgomery County. "Walker became the first person at DePauw University to ever play and coach on a winning Monon Bell football team. Walker concluded his second full season as the Tigers' head coach with a thrilling 24-21 victory Saturday afternoon when sophomore transfer placekicker Jordan Havercamp attempted just his second collegiate field goal, and his first of the season, and converted on a 47-yarder as time expired to lift the Tigers (8-2) over No. 9 Wabash (9-1)."
"This is an incredible feeling," Walker told the newspaper after the thrilling conclusion. "I'm not sure it has set in yet. I just know that my guys battled to the very end and did what they had to do. This would not have been possible without them giving 110 percent for 60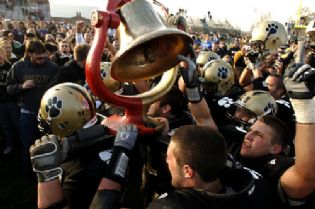 minutes and our coaching staff, as well. I can't take credit because it was the entire team and coaching staff that made this happen."
The final drive began with just 1:23 left on the clock and the ball on Wabash's 4 yard line. "We didn't know what to do on that final drive," Walker, a 1999 graduate of DePauw, says. "We had to be careful. (Wabash) still had a couple of timeouts so we couldn't get real conservative, but we didn't want to give them the ball back either. Our coaching staff was looking at one another and finally I it hit me that I was the head coach and had to made a decision."
Barry Lewis notes, "The decision was to try to grind out a first down, and after that happened they would open up the offense a little. DePauw got the first down and drove the ball to the Wabash 29 with just 2.4 seconds to play. Then, Walker made his toughest decision -- making the call of who should kick the field goal. DePauw's usual field goal kicker -- junior Brendan Smith --
had missed a 25-yard attempt in the first half. Walker went with Havercamp, who had not attempted a field goal all season and had missed his only attempt last year at Denison." (photo at left: Banner-Graphic of Greencastle)
In a separate story, Havercamp tells the Paper, "I was ready. The whole season I was waiting for my chance. I thought it was good. It never went outside the posts. It felt good when I hit it. I was not nervous until I lined up. Then it hit me. But you've got to play through it."
Lewis writes, "The victory drew DePauw to within one game of tying the overall series, which Wabash leads 53-52-9. The dramatic finish also secured a spot on ESPN Saturday as the seventh best 'Play of the Day' segment."
Access the complete text, "Walker etches name into lore," at the newspaper's Web site.
Back