Percussion Ensemble Presents 'Wood, Metal and Skin' Thursday
November 12, 2007
November 12, 2007, Greencastle, Ind. - This Thursday, November 15, the DePauw Percussion Ensemble will present a concert in the Green Center for the Performing Arts' Kresge Auditorium at 7:30 p.m. The performance, titled "Wood, Metal and Skin," is free and open to the public.
The Percussion Ensemble will perform music by David MacBride, John Cage, Mark Ford, Jan Bach, and Sven-David Sandström. The concert will feature works that are composed for a single category of percussion instruments: for example, drums, metal, or wood.
"Within each category, there is a surprisingly large range of sound colors," states Professor Amy Lynn Barber, director of the Percussion Ensemble. "We'll be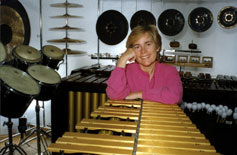 using many standard percussion instruments, as well as things like automobile brake drums, metal pipes, bamboo wind chimes, sheets of aluminum, and a gong dipped into water."
The concert will include two works that are a bit theatrical in their choreography. "The visual and physical aspect of percussion instruments is always an important element in performance, and these pieces capitalize on that. They are fun to play, and fun to see and hear," states Dr. Barber.
Visit the DePauw University School of Music online.
Back