Lee Hamilton '52 One of 'America's Best Leaders 2007'
November 15, 2007
November 15, 2007, Greencastle, Ind. - Lee H. Hamilton and James A. Baker III, co-chairs of the Iraq Study Group, are among "America's Best Leaders 2007," featured in the November 12 edition of U.S. News & World Report. Hamilton, a 1952 graduate of DePauw University, is among 18 individuals "who motivate people to work together to accomplish great things." Others cited include Michael J. Fox, Arnold Schwarzenegger, Nancy Pelosi, Yo-Yo Ma and Nicholas Kristof.
The panel led by Baker and Hamilton included 1957 DePauw graduate Vernon E. Jordan. Their report, issued in the fall of 2006, "made it hard for even the war's firmest backers to argue for staying the course," notes U.S. News. "Hamilton, 76, a 17-term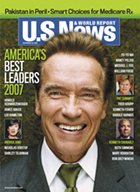 Democratic congressman from Indiana, is president of the Woodrow Wilson International Center for Scholars and a former chair of the House Foreign Affairs Committee."
Of Hamilton, Baker states, "He has had a voracious appetite for knowledge. He is an honest broker. He is a careful listener. He was always a person who would try to bridge the gap. He understood the political restraints the other side had with connection to any negotiation. He is not consumed by ideology, but he would not sacrifice principle for pragmatism. Lee is not going to spend a lot of time down in the weeds. He understands how to quickly arrive at what's important and deal with that rather than superfluous issues."
The Republican also notes, "When I was secretary of state, we always saw Lee as someone with whom you could work. He had a bipartisan work ethic. He understood something that I think was more prevalent when I first came up [to Washington] in 1975 than perhaps it is today, and that is that you could disagree agreeably. You could be a political
adversary without being a political enemy. That's always been my view of the way politics ought to be pursued, and I think it's Lee's as well."
Baker concludes, "My definition of leadership has always been that it is not some exalted principle reserved only for those in high authority. My view is that leadership is nothing more than simply knowing what to do and then doing it. And that personifies Lee Hamilton."
Access the complete piece, and read Hamilton's thoughts on Jim Baker, at U.S. News' Web site. A listing of all of the "best leaders" can be found by clicking here.
Hamilton and Baker recently became the inaugural recipients of the Churchill Award for Statesmanship. Learn more in this previous story.
Back