Orchestra's Thanksgiving Week Concert Features Viola Prof. Nicole Brockmann
November 16, 2007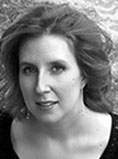 November 16, 2007, Greencastle, Ind. - On Monday, November 19 at 7:30 p.m., the DePauw University Orchestra presents its Thanksgiving week concert, featuring violist and School of Music professor Nicole Brockmann. The program will take place in Kresge Auditorium of the new Judson and Joyce Green Center for the Performing Arts and is free and open to the public.
"We are pleased to present our next concert of the year with a wonderful solo instrumentalist," says Orcenith Smith, music director of DePauw Orchestras. "Nicole Brockmann has an exquisite tone and strong musical sense. To hear the viola played as a solo instrument in orchestral concerts is unusual, but N
icole Brockmann will keep audiences coming back for more."
Professor Smith says the selections in Monday's performance will explore several different emotional directions. "The change of seasons and the movement toward Thanksgiving and the holidays
brings emotional change in all of us," he says. "Our music for this short school night concert has been chosen to consider these things."
Featured in the forty minutes of music will be Aaron Copland's An Outdoor Overture, Samuel Barber's First Essay for Orchestra, and Richard Wagner's Siegfried's Rhine Journey. Dr. Brockmann will be featured in a work for solo viola and strings, the Trauermusik (Music of Mourning) by Paul Hindemith.
Brockmann holds a D.M.A. and other graduate degrees from Yale University and a B.F.A. from Carnegie Mellon University. As a performer, Brockmann specializes in chamber music, and has taught and performed professionally at festivals and venues across the United States. She joined the DePauw faculty in fall 2006.
For more information, visit the DePauw University School of Music online.
Back