Prof. Ken Bode Brings Star Readers Along as He Revisits Iowa Town
November 16, 2007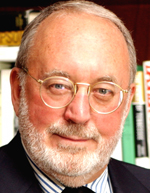 November 16, 2007, Greencastle, Ind. - "To me, although Hawarden still feels like home, the town definitely has changed," Ken Bode writes of the Iowa community in which he spent his high school years. DePauw University's Eugene S. Pulliam Distinguished Visiting Professor of Journalism writes of his recent return visit to Hawarden in today's Indianapolis Star.
Hawarden was a farming and railroad town in Bode's youth. "Irish and Italian immigrants built those railroads, and some dropped off to live here, giving us the only Catholic school in Sioux County, which was otherwise settled by Dutch and German Protestants." He reports, "Once there were
two railroads, two downtown hotels and two movie theaters, and now there are none."
His column looks back upon the many changes the world experienced while he was in high school and how oblivious he was to many of the headlines of the day at that time. "High school then was much like today; you're much more absorbed in what's happening to you than what's happening in the rest of the world. All the boys had draft cards, but it was long before Vietnam. As I prepared for this trip, I realized that I could tell you how our basketball team did senior year (we lost 16 straight) and that Eisenhower was president the whole time, but not much else."
Hawarden is changing, notes the professor and former CNN senior political analyst. "A wave of Hispanic immigrants has found Hawarden," Bode says. "While I grew up, the town was lily-white. Now, perhaps as many as 150 Hispanic families are here, working in the local packing plant or doing farm labor. How many might be illegal is generally unknown. Rafael Lopez, owner of the new Mexican restaurant, says

Hawarden is a welcoming place, especially the schools. His son plays football, and the students voted a Hispanic girl, Diana Rubio, homecoming queen. She is a four-year honor-roll student, is on National Honor Society, and competes on the Quiz Bowl team. Nobody ever forgets who was the homecoming queen."
Bode concludes, "For some, the change is dizzying. 'We're still in denial,' my friend Charles explained. Long ago he and I got our boyhood dogs from the same litter. Nevertheless, I heard no talk about cracking down on immigrants. After all, that earlier wave of Irish and Italian immigrants eventually worked out all right, didn't it?"
Access the complete column, headlined "Rewind you news reels," at College News.org.
Back