15 Tigers Named to All-SCAC Team; Five Earn First Team Honors
November 27, 2007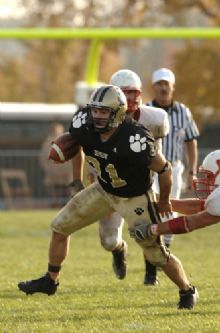 November 27, 2007, Greencastle, Ind. - In exclusive voting by the Southern Colleigate Athletic Conference's nine head football coaches, 15 DePauw student-athletes earned spots on the all-conference team including five first teamers.
DePauw's first team selections include senior running back Jeremiah Marks (pictured right), senior left guard Kerry Pappas (pictured below), sophomore wide receiver Bryan Mulligan, junior defensive end Michael McNelis and senior cornerback Jevon Pruitt.
Marks, DePauw's all-time leading rusher and scorer and the SCAC's leading scorer, earned first team honors for the fourth straight year, while Pappas was a third-time first team selection. Pruitt and McNelis were second team choices last year and Mulligan an honorable mention selection.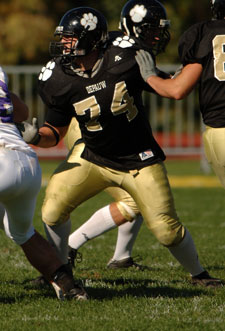 Five players earned spots on the second team including junior center Ian Yearwood, sophomore quarterback Spud Dick, senior linebackers J.J. Costello and Ryan McElwain and freshman punter Adam Hill. Yearwood was also a second team choice in 2006.
Five Tigers also earned honorable mention including junior left tackle Casey Ellinger, junior strong safety Marc Hoeppner, senior tight end Stephen Horrighs, freshman wide receiver Alex Koors and senior free safety Mike Sprengnether.
Marks picked up one vote for offensive player of the year honors, while Koors finished with three votes for newcomer of the year. Head coach Matt Walker, in his second season, recorded two votes in coach of the year voting.
DePauw finished the season with an 8-2 overall record and a 5-2 SCAC mark which was good for third place.
The complete release is available here.
Back