School of Music Presents Post-Classical Symposium, November 29 - December 1
November 22, 2007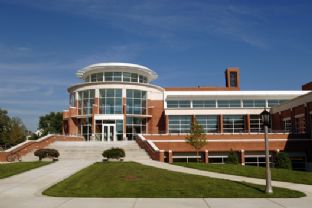 November 22, 2007, Greencastle, Ind. - DePauw University's School of Music, one of the oldest private institutions for post-secondary music instruction in the United States, presents its 2007 Post-Classical Symposium, November 29 through December 1. Entitled, "Preparing Music Students for the Post-Classical World," the symposium will feature presentations and discussions by scholars and performers such as Joseph Horowitz, Greg Sandow, Erich Stem, eighth blackbird, and Bang on a Can All-Stars.
The purpose of the symposium is to facilitate discussion and exchange ideas about the challenges facing college and university music departments, schools of music, and conservatories and look with fresh eyes at
the music curriculum. Performances by the DePauw New Music Ensemble and students of the University's Improvised Chamber Music class will demonstrate how the DePauw University School of Music is embracing these post-classical elements and will provide ground for discussion and interaction with symposium presenters.
"Joseph Horowitz is a force in classical music today, a prophet and an agitator," write the New York Times of the symposium's keynote speaker, who will discuss "The Classical Music 'Crisis': How It Happened and What to Do About It." Horowitz is one of the most prominent and widely published writers on topics in American music. His Classical Music in America: A History of its Rise and Fall was named one of the best books of 2005 by The Economist.
Other presentations will include: "An Indie Label in the Post-Classical World," a talk by Eric Stem, director of New Dynamic
Records; "Using Costumes, Staging, and Amplification," a presentation by members of eighth blackbird, DePauw's ensemble-in-residence for the current academic year; "The Fute of Classical Music" by critic and consultant Greg Sandow; and a panel discussion, "How Should Music Schools Be Preparing Students for the Realities of Post-Classical Life," among other programs.
Post-Classical Symposium events will take place in Kresge Auditiorium and Thompson Recital Hall of the Judson and Joyce Green Center for the Performing Arts. All of the programs are free and open to the public.
For a full event schedule, presenter biographies and current updates, click here.
Back