Men 4-0, Women 3-1 After Weekend Basketball Tourneys
November 26, 2007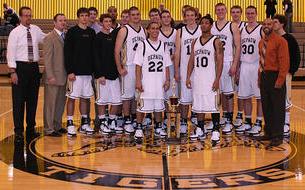 November 26, 2007, Greencastle, Ind. - "Mike Moore had 19 points and Stephen Schott 18 to lead the Tigers in the championship game of the Mike Rokicki Community Versus Cancer Challenge," notes the Indianapolis Star of yesterday's 81-67 DePauw victory over the University of Chicago. The win makes the men's team 4-0 on the season and marks the squad's 18th straight home triumph. (photo at left: courtesy Banner-Graphic)
Meanwhile, DePauw's women's team fell to 3-1 on the season with a 65-59 setback Sunday to host Thomas More. "Senior Amanda Link (Glen Este) scored a tournament-record and career-high
22 points to lead the Saints past the defending Division III national champions in the Julie Costello Memorial Classic," reports today's Cincinnati Enquirer. "TMC beat its second ranked opponent in three games, including No. 22 Wilmington last week. DePauw entered the game ranked second by the WBCA and fifth by D3hoops.com."
Both teams begin Southern Athletic Collegiate Conference play this weekend in Kentucky versus Centre College.
For comprehensive coverage of Tiger athletics, click here.
Back