Col. David Shoup '26 Receives Congressional Medal of Honor
January 22, 1945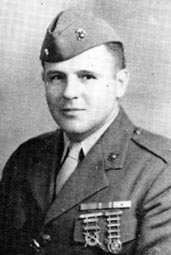 January 22, 1945, Greencastle, Ind. - Col. David M. Shoup, commander of the Second Marine Division and 1926 graduate of DePauw University, has been awarded the Congressional Medal of Honor, the nation's highest decoration for bravery. The Medal was presented today by James V. Forrestal, Secretary of the Navy. Shoup is the twenty-fifth Marine to be awarded the Medal of Honor during World War II.
Already a holder of the Navy Cross -- the second-highest award -- for his bravery during the initial landings on Tarawa in the Gilbert Islands last November, Col. Shoup's new citation reads: "Although severely shocked by an exploding shell soon after landing =at the pier, and suffering from a serious painful leg wound which had become infected, Colonel Shoup fearlessly exposed himself to the terrific relentless artillery, machine gun and rifle fire from hostile shot emplacements and, rallying his hesitant troops by his own inspiring heroism, gallantly led them across the fringing reefs to charge the heavily fortified island and reinforce our hard-pressed, thinly-held lines."
The commendation adds, "By his brilliant leadership, daring tactics and selfless devotion to duty, Colonel Shoup was largely responsible for the final, decisive defeat of the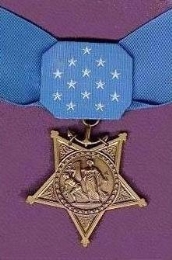 enemy, and his indomitable fighting spirit reflects great credit upon the United States Naval Service."
Severely wounded in the Tarawa landing, Col. Shoup received the gold star in lieu of a second Purple Heart. He was originally wounded on New Georgia, Solomon Islands. He has been in the Pacific war zone since 1942.
Last spring, David Shoup was awarded DePauw's Old Gold Goblet as "the DePauw alumnus who has distinguished himself in his chosen profession and has demonstrated outstanding service and loyalty to alma mater."
While a student at DePauw, Shoup was a Rector Scholar and member of the track team and ROTC unit. He won the Indiana-Kentucky marathon in 1925 and was also on the University's wrestling and rifle teams.
Back