Ron Stiver '96 and His Agency Lead Statewide Food Drive for Needy
November 29, 2007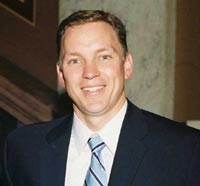 November 29, 2007, Greencastle, Ind. - "We are very grateful to Commissioner Ron Stiver and the local BMV staff for this special effort to support our work to feed those in need in our communities," says Barbara Ahler, executive director of the Food Finders Food Bank. In the Carroll County Comet, Ahlers responds to an announcement that the Indiana Bureau of Motor Vehicles -- which is led by Stiver, a 1996 graduate of DePauw University -- is sponsoring a food drive at the state's 140 full-service license branches.
"People can bring canned and nonperishable food to any of the BMV license branches through Dec. 8," reports the Associated Press. "Stiver said regional food banks throughout the state will collect the food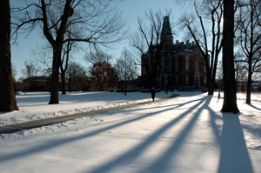 from the branches and distribute it in each branch community through local food pantries."
Stiver says, "Each year millions of customers visit their local license branches to register and title their cars, obtain driver licenses and receive other BMV services. We are now asking them to make one more visit to the branch, but this time to help others by donating canned goods and non-perishable food items for distribution to their fellow Hoosiers in need."
Read more by clicking here or access a previous story on Ron Stiver.
Back