'Hollywood and American Politics' Intersect in Prof. Ken Bode's Weekly Column
November 30, 2007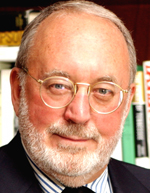 November 30, 2007, Greencastle, Ind. - "I teach a class at DePauw called Hollywood and American Politics," writes Ken Bode, Eugene S. Pulliam Distinguished Visiting Professor of Journalism, in today's Indianapolis Star. "We read some history about eight prominent politicians, watch documentaries about their lives and then screen Hollywood or TV productions about them. The students examine how accurately Hollywood hews to a standard of historical accuracy or strays widely from fact, and also how much the Hollywood version, the myth, has become cemented in the public Zeitgeist about Roosevelt, Truman, Kennedy, Reagan and others."
George Wallace, the former governor of Alabama and four-time presidential candidate, is one of the politicians Bode's class examines. The professor's weekly column notes that Arthur Bremer, the man convicted of the 1972 shooting of Wallace,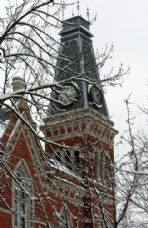 was released from prison on November 9 after serving 35 years behind bars.
"Described now as balding and paunchy, with a long gray beard, Bremer became the first high-profile attempted assassin to be freed from custody in the United States," Dr. Bode writes. "The chairman of the parole commission said, 'I don't believe he will be a danger.' But a Maryland corrections official admitted, 'He has no place to go. He has no one.'"
Bode, former political correspondent for NBC and CNN, continues, "In 1998, George Wallace went to his death believing that Arthur Bremer did not act alone when he shot the Alabama governor, ending his 1972 presidential campaign. Running as a Washington outsider in the Democratic primaries, Wallace promised to shake the party to its eyeteeth using the issues of busing, welfare and taxes. He entered 11 primaries, winning five and finishing second in six. On the day he was shot, Wallace was the Democrats' frontrunner. The biggest fear of Bremer's preferred victim, President Richard Nixon, was that Wallace would stir-up blue-collar Democrats and white-backlash voters (new additions to the GOP coalition), then take his candidacy into a third party, as he did in 1968. Nixon realized that even against George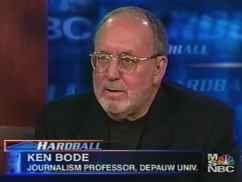 McGovern, Wallace might drain enough votes to cost him the election. The day Wallace was shot is the day Nixon was assured four more years. That's why Wallace and his family lived all these years with the hideous suspicion that Bremer was the Watergate dirty trick that was never thoroughly investigated."
The professor believes Bremer's story "cries out for Oliver Stone," noting it is a tale in which "the blond busboy stalks two politicians for weeks, renting limousines and helicopters, hiring a prostitute, staying in the Waldorf Astoria, all on an income of $1,611 the previous year. Where did he get the money?"
Bode concludes, "Bremer has already made his imprint on Hollywood. He was the inspiration for the Travis Bickle character, played by Robert De Niro in Taxi Driver. That film, in turn, was the inspiration for John Hinckley Jr. to shoot Ronald Reagan. Which brings me back to the politicians included in my course. Of the eight we study, two were assassinated (Huey Long and John Kennedy), two were shot (Wallace and Reagan) and two more were shot at and missed (Franklin Roosevelt

and Harry Truman). Only Richard Nixon and Bill Clinton managed to campaign and govern without having to dodge gunfire. Running for president and serving in the office carries a risk of violence greater than we usually appreciate."
Access the complete column at College News.org.
Last Friday, Ken Bode analyzed the presidential campaign coverage of two cable television networks. Read more in this previous story.
Back