New Butler Coach Brad Stevens '99 Off to a 6-0 Start
November 30, 2007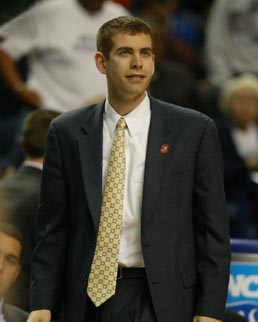 November 30, 2007, Greencastle, Ind. - "Brad Stevens is 31. With the boyish looks, he could probably pass for 25," begins an article at Yahoo! Sports on the 1999 DePauw University graduate. "He's so young that when his Butler team took on Michigan last week at the Great Alaska Shootout, a couple of Wolverines eyed him during warmups and asked their coach, John Beilein, 'that's their coach? How old is he?' Stevens has been a head coach, on any level, for six games. He is 6-0, won the Alaska tournament and has the Bulldogs ranked 16th in the country," writes Dan Wetzel.
After being defeated by Stevens' team, Texas Tech coach Bob Knight declared, "The best compliment I can give them is that I wish we played as smart as they do." Knight is "merely the winningest college coach of all-time," notes the reporter. Similar praise has come from other early
victims of Butler, but Stevens takes it in stride. "It's really nice but I don't think it's a compliment to me," he says. "I appreciate it, but that's a compliment to our players and the way they approach the game."
Tomorrow, Butler will host Ohio State University, which is coached by the Bulldogs' former coach, Thad Matta. "Stevens remains eternally grateful to Matta for giving him a job as director of basketball operations back in 2000," Wetzel writes. "At the time, Stevens was fresh off a career at DePauw University and bored in a marketing job at Eli Lilly Co. At night, he scouted
for a local high school team and then talked his way onto the Butler staff. Seven years later he's the head coach."
Read the complete story by clicking here.
An economics major and Management Fellow at DePauw, Brad Stevens earned all-conference and academic all-conference honors as a four-year member of the Tigers basketball team. Learn more about him in this previous article.
Back