Joseph Barr '39 and Thomas Gibson '64 Keynote Alumni Reunion Convocation
June 3, 1989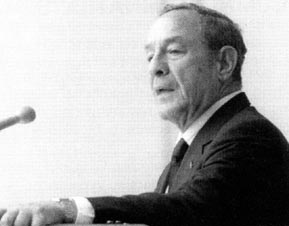 June 3, 1989, Greencastle, Ind. - "In August 1943 I was commanding officer of a sub-chaser sailing to invade the Salerno beachhead," Joseph Barr recalled as his delivered the golden anniversary address to fellow members of DePauw University's Class of 1939 at today's Alumni Reunion Convocation. The former U.S. Treasury Secretary continued, "We got just south of the isle of Capri and turned right towards Salerno when we heard over the radio that the Italian Fleet had surrendered, and we thought we had a cakewalk. Quite the contrary. The Germans had replaced all the Italians and hit us with a barrage that I will never forget."
Barr, who has also been a U.S. Congressman, served in the United States Navy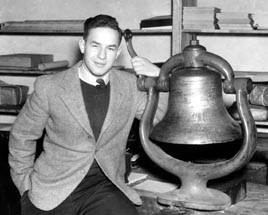 from 1942 to 1945, during World War II, with subchaser duty in the Mediterranean Sea and Atlantic Ocean. He received a Bronze Star for sinking a submarine off Anzio Beach. (at right: Barr, who was captain of DePauw's football team, with the Monon Bell)
In his remarks, he continued, "I had found at the invasion of Sicily a month earlier that I got very nervous under fire. Fear is a contagious condition. I was concerned that if my voice shook as I fought the ship, it would spread through my crew. Like any good DePauw graduate faced with a problem, I wrote a paper. This was a paper describing how various people reacted to attack and fear. I became so engrossed in my observation and in writing the paper that I forgot about my own fearfulness. I was able to fight my ship with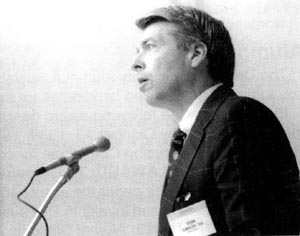 relative calmness through the Salerno experience and the subsequent invasions of Anzio, Elba and south France."
Thomas Gibson, president and CEO of Subaru of America Inc., delivered the keynote address to his Class of 1964. "The global issues then were harbingers of our global concerns now," he told the silver anniversary class. "Rachel Carson's The Silent Spring, our junior year reading assignment, warned of long-lasting damage to the environment if we did not control harmful pollutants and toxic waste."
Gibson continued, "The Cuban missile crisis, 90 miles from our shores, was a vivid reminder of the encroachment of communism on the North American continent. The Bay of Pigs invasion raised the specter of secrecy in government.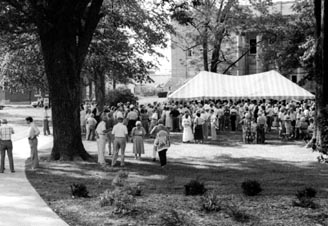 The protests in Birmingham, Alabama, were a foreshadowing of racial tension in America that presaged the most important civil rights movement in American history. The dream of Martin Luther King is still an unfinished quest for blacks today."
Alumni Citations were awarded to John McWethy '69, ABC News national security correspondent; JoAnn Ridge Meehan '49, civic leader; Al Ries '50, chairman of Trout & Ries; and Max Stackhouse '57, Herbert Gezork Professor of Christian Social Ethics and Stewardship Studies at Andover Newton Theological School.
More than 2,100 alumni and friends are back on campus for this weekend's festivities.
Back