Senior Wins National Art Contest
February 23, 1958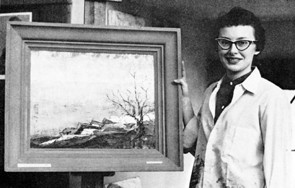 February 23, 1958, Greencastle, Ind. - Martha Obear, a senior art major at DePauw University, is the winner of the top oil painting award in a national contest sponsored by Kappa Pi art fraternity along with the Mississippi State College for Women. Obear competed with Kappa Pi members at approximately 100 colleges and universities across the United States.
Obear's work will be featured, along with other national winners, in the next edition of the art fraternity's publication, The Sketchbook.
DePauw is in the process of creating a new Art Center in the heart of its Greencastle campus. Learn more in this story.
Back