24.1 Million 'Hits' and 6.7 Million Page Views Here in November
December 4, 2007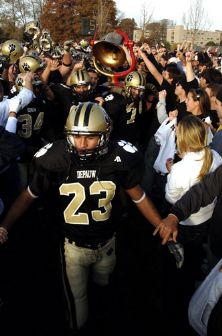 December 4, 2007, Greencastle, Ind. - A breathtaking finish to the Monon Bell Classic was a key driver in setting two new all-time records at this Web site last month. Final figures show 24.1 million "hits" were registered at DePauw.edu in November 2007, while the site received nearly 6.8 million page views.
The November 2007 total of 24,183,802 hits breaks the previous record of 21,875,953, while the 6,786,020 page views bests the prior all-time mark of 5,580,534 -- both records which were set only a month before. March 2007 still holds the top mark for unique visitors (393,159) and visits (1,293,553).
News continued to be the top contributor of traffic to DePauw.edu, with coverage of the thrilling Monon Bell Classic leading the way. The game summary with video clips was viewed 9,743 times, while a story noting
that the game-winning kick was an ESPN "Play of the Day" accumulated 4,230 looks. Other popular stories included an update on the presidential search process, the announcement of the Exemplary Teaching Award, the Ubben Lecture by PostSecret founder Frank Warren, DePauw's showing in the annual National Survey of Student Engagement, the Open Doors report on opportunities for study abroad, an update on DePauw and Delta Zeta, the appearance of Jeff Pierson '82 on the cover of Indianapolis Monthly, an op-ed by Professor Jeff McCall '76 about television's Kid Nation, news that a band featuring two DePauw students has signed a record contract, and the Remember DePauw video that ran on HDNet at halftime of the DePauw-Wabash game. A total of 110 news stories were posted in November, with even more on the athletics page.
Visitors also availed themselves of the hundreds of video clips imbedded in the nearly 6,700 news stories archived on the site. The music video for the Ballad of the Monon Bell was downloaded 1,747 times last month, and the MP3 file of the song was pulled in 1,007 times.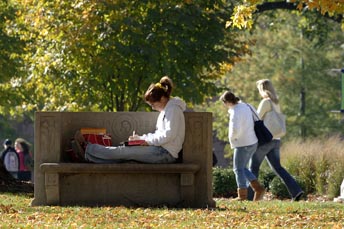 Game clips and "Monon Memories" were also popular.

[Download Video: "2007 Monon Memory" - 7808kb]
Other popular destinations included the campus calendar and the pages devoted to athletics and student life.
The average visitor spent 17 minutes and 11 seconds, per visit, at this Web site. At least 5.73% of the traffic came from foreign countries, the top ten being: Canada, United Kingdom, Netherlands, Australia, China, Germany, France, Mexico, Spain, Sweden, Uruguay, Japan, Denmark, Italy and Singapore.
| | | | | |
| --- | --- | --- | --- | --- |
| | Hits | Unique Visitors | Visits | Page Views |
| November 2007 | 24,183,802 | 336,808 | 1,085,750 | 6,786,020 |
| Nov. 2006 | 19,527,297 | 379,108 | 1,267,839 | 4,475,041 |
| Nov. 2005 | 18,506,561 | 201,631 | 858,617 | 4,214,601 |
| Nov. 2004 | 12,552,770 | 150,514 | 597,389 | 4,100,579 |
| Nov. 2003 | 10,165,885 | 101,147 | 438,144 | 2,418,893 |
| Nov. 2002 | 7,804,993 | 69,924 | 362,884 | 1,374,018 |
| Nov. 2001 | 6,336,224 | 51,499 | 273,404 | 1,254,565 |
| Nov. 2000 | 3,161,231 | 28,662 | 159,845 | 847,870 |
("hits" is a count of all the successful hits including HTML pages, pictures, forms, scripts and files downloaded; unique visitors counts each user once per month; visits counts every time a user visits the site)
Back