Barbara Kingsolver '77 Has "Contributed Greatly" to "New Movement"
December 5, 2007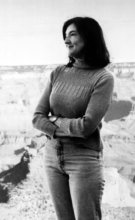 December 5, 2007, Greencastle, Ind. - "[Barbara] Kingsolver's writing has contributed greatly to the dialogue surrounding a new movement," asserts Kate Patton in the Ocean Pines Independent of Ocean City, Maryland. "The New Oxford American Dictionary has chosen for the new 2007 word of the year, locavore, a term coined in San Francisco that encourages consumers to buy locally grown ingredients and seasonally available foods, rather than purchasing from supermarkets, which often ship food over long distances, requiring more fuel for transportation."
A 1977 graduate of DePauw University, Kingsolver's most recent bestselling book is Animal, Vegetable, Miracle: A Year of Food Life.
"More recently, writing from her southwest Virginia home, she weighed in to the Washington Post with an opinion editorial on Sept. 30, 2007," writes Patton.
The column in the Maryland newspaper, headlined "Support the local economy this holiday season," asks, "Will you be serving locally grown foods during your holiday feast? Do you know where your turnips and sweet potatoes were grown? While it is true that many of us here on the shore have a relationship with the land, there are a growing number of families unfamiliar with the rural heritage of the Eastern Shore. Regardless of our backgrounds, many of us cannot honestly answer where our food is coming from."
Read the complete text at the Independent's Web site.
On November 20, it was announced that Barbara Kingsolver will deliver Duke University's commencement address in May.
Animal, Vegetable, Miracle was recently named to a "best of" list for 2007 and Kingsolver was selected Bon Appetit magazine's "Food Writer of the Year."
Back