DePauw Assistant Jamie Zorbo Appointed Head Football Coach at Kalamazoo College
December 4, 2007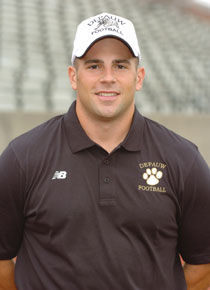 December 4, 2007, Greencastle, Ind. - Jamie Zorbo, an assistant football coach at DePauw University the past two seasons, was today named head football coach at Kalamazoo College. "A 2000 graduate of the school and former standout defensive end, Zorbo will begin his new duties Dec. 11," notes the Kalamazoo Gazette.
"I am excited to be back at my alma mater," says Zorbo. "I look forward to hitting the ground running. Our No. 1 priority right now is recruiting and attracting exceptional student-athletes to our great campus. We want to take the program to a new level, and I believe we can do that."
The newspaper notes, "Zorbo served as an assistant coach for his alma mater for six seasons -- including the 2004 and 2005 seasons as defensive coordinator. He joined

DePauw University as an assistant coach in 2006."
Read more by clicking here. Another item can be found here, and there's a summary in the Detroit Free Press.
Back