Star Notes Former DePauw Coach Royce Waltman's Unique NCAA Mark
December 7, 2007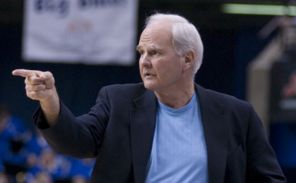 December 7, 2007, Greencastle, Ind. - "Royce Waltman's return to the University of Indianapolis has been perfect," notes today's Indianapolis Star of UIndy's 6-0 start. "Waltman, who spent the past 10 years at Indiana State, is believed to be the only coach to win NCAA Tournament games in Division III (DePauw), Division II (UIndy) and Division I (ISU)," reports Jeff Rabjohns. "His most recent UIndy team, 1996-97, reached No. 1 in the nation. He was a Bob Knight assistant for five years, including the 1987 national title team."
In five years at DePauw (1987-1992), Waltman posted a 99-38 record, including a 24-7 mark in the 1989-90 season, when he guided the Tigers to the championship game of the Division III men's tournament.
Waltman took the helm of the Greyhounds in October when Todd Sturgeon, a 1988 graduate of DePauw, resigned. "I was disappointed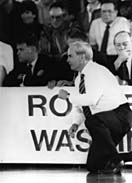 coach Sturgeon decided to leave, but I can't say I wasn't delighted to have my own team," says the 65-year-old Waltman.
Of UIndy's future, all he can do is look at the schedule. "I don't know what their long-range plans are, but I'll have 28 straight job interviews here," Waltman tells the newspaper.
Read more at the Star's Web site.
Back