PBS Station Offers Encore Presentation of Our Town: Greencastle
December 9, 2007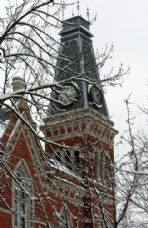 December 9, 2007, Greencastle, Ind. - Our Town: Greencastle, a program produced by WTIU, will air in an encore presentation on the Bloomington, Indiana PBS television outlet today at 5:30 p.m. With sponsorship support from DePauw and the University's Walden Inn, "The program includes segments on the history, economy, folklore and people of Greencastle," notes the Banner-Graphic. "Viewers will learn about the Heritage Wall, the impact of IBM leaving the community, DePauw University, the national road, the fire that burned most of the town in 1874 and the John Dillinger bank robbery in 1933."
The newspaper points out, "The program had its premiere on Dec. 2 and was repeated Dec. 4 and 6. Due to such positive audience response, the public television station has added a fourth showing of the program in one of its viewer choice slots this weekend."
The PBS affiliate's program includes interviews with DePauw President Robert G. Bottoms; Mary
P. Kertzman, University Professor of physics and astronomy; John Baughman, professor emeritus of history; Wes Wilson, University archivist; and Nick Mourouzis, who guided DePauw's football program for 23 years before retiring in 2003.
DVD copies of the program are available through WTIU.
Read more at the newspaper's Web site, or visit WTIU online.
Back