Joe Dayan '82 Gets a "Rose" from the Indianapolis Star
December 8, 2007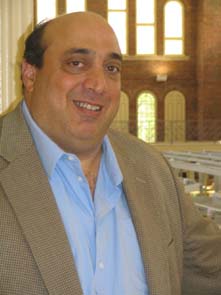 December 8, 2007, Greencastle, Ind. - "For all the criticism tossed the Indianapolis City Market's way in the past, it's time to give Executive Director Joe Dayan a pat on the back," writes Susan Guyett in her Indianapolis Starcolumn. "When Dayan noticed a Nov. 15 item in 'Talk of Our Town' about Berkshire Florist closing, he recognized an opportunity." Joe Dayan is a 1982 graduate of DePauw University.
Guyett notes that a rent increase was a factor in the decision by the owner of the downtown shop, Robert Behning. "Dayan moved quickly and suggested his leasing director contact Behning with the idea of moving into City Market. The lease isn't signed yet, but it sounds like they are about to get the longtime flower shop open at City Market before Christmas."
Guyett concludes, "Give Dayan a rose for spotting a good opportunity."

Read the complete item at the newspaper's Web page.
Joe Dayan took the reins of the City Market in June. Details are in this previous story.
Back