Dean Robert Farber '35 to Lead Goodwill Mission to The Orient
January 13, 1972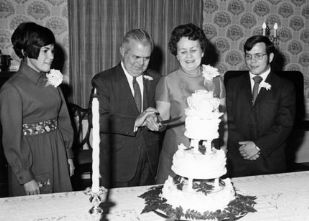 January 13, 1972, Greencastle, Ind. - Robert H. Farber, dean of DePauw University, and his wife, Edna, have been appointed directors of a goodwill travel mission to the Orient, which will begin June 28. The Farbers will head a group of educators who will visit with their counterparts in Hawaii, Japan, Taiwan, Hong Kong, Thailand and the Philippines. (at left: the Farbers at a silver anniversary wedding reception at the home of Dr. and Mrs. William F. Kerstetter in 1971)
The group will also meet with education officials of foreign governments and the United States representatives abroad. Conferences are also scheduled at a number of foreign school and universities.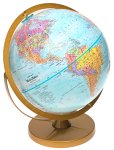 The purpose of the trip is to promote goodwill and understanding between Americans and their counterparts abroad. The Farbers directed a similar mission to Western Europe and Russia in 1970.
The trip is sponsored by the Citizen Ambassador Program and is under the auspices of the International People to People Organization.
Dr. Farber, a 1935 DePauw graduate, has been a member of the University administration continuously -- except for military service -- since 1937 when he became secretary of admissions and assistant dean of the Rector Scholarship Foundation. He became assistant dean of students and director of placement in 1947, and in 1952 was named academic dean. In 1962-63 he also served as DePauw's chief administrative officer following the death of President Russell Humbert.
Back