Max Biggs '42 on Sports Illustrated's All-American Honor Team
December 11, 1966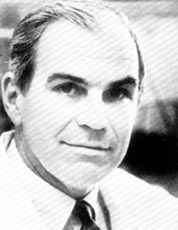 December 11, 1966, Greencastle, Ind. - For the fifth consecutive year, an alumnus of DePauw University is among Sports Illustrated's "Silver Anniversary All-American Award team. Max W. Biggs, a 1942 DePauw graduate, is on the 1966 list of 25 senior collegiate football players of 25 seasons ago who since college graduation have made outstanding contributions to life.
Living now in Pleasanton, California, Dr. Biggs is director of medical services at Lawrence Radiation Laboratories in Livermore, California. The magazine cites Biggs for his significant contributions to cancer and heart research. Nineteen of his research projects have been published in scientific journals and he has received grants from the Atomic Energy Commission, American Heart Association, and the Arthritis and Rheumatism Foundation.
A Rector Scholar and member of Gold Key at DePauw, Biggs graduated with distinction then went on to earn a degree from the Harvard School of Medicine. After a tour of duty with the Navy as a medical corps officer, he received a Ph.D. in medical physics from the University of California, then spent a year at the Indiana University School of Medicine as an assistant professor in the department of surgery.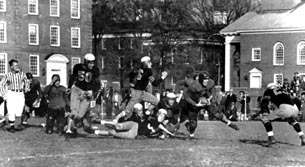 Described in the Mirage yearbook as a "glue-fingered" end on the Tigers' 6-2 1941 football team, Biggs also won varsity letters in basketball and baseball at DePauw.
DePauw alumni who have previously been recognized by Sports Illustrated's honor team are: John Oswald '38, president of the University of Kentucky; Rev. Ray Montgomery '39, minister of the Speedway (Indiana) Christian Church; Max Bartley '40, Indianapolis opthamologist; and J. Robert Nelson '41, professor of theology at Boston University.
Back