Classes of 1932 and 1957 Lead Record Numbers Back for Alumni Weekend
June 5, 1982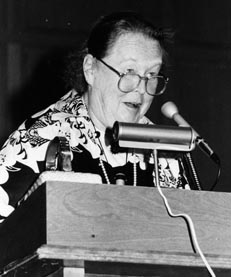 June 5, 1982, Greencastle, Ind. - "Growing up in Indiana and capping that with four years at DePauw was a pretty good preparation for the life I've led over these five decades, Joanna Durham McGaughey told fellow members of the University's Class of 1932 at today's Alumni Convocation. "Bill McGaughey, my DePauw husband of 43 years who grew up in Indianapolis feels pretty much the same way."
In her speech, Mrs. McGaughey, who served as fashion editor for the Associated Press in the 1930s, entertained the Alumni Reunion Weekend crowd with tales, including an interview she conducted with the wife of the legendary Lou Gehrig.
"'The wife of baseball's Iron Man, Lou Gehrig, is no Iron Woman,' I wrote. My story on Mrs. Gehrig appeared on the sports page of an Indianapolis newspaper that was thrown every afternoon onto the front porch at the Durham's [her parents] at the corner of Seminary and Locust in Greencastle," she recalls. "The date on the story was May 3 -- Pap's birthday. But the story carried the byline John Durham. Not Joan Durham. Apparently the editors of that Indianapolis paper just couldn't believe that a Joan could write a sports story."
Vernon Jordan, former president of the National Urban League, spoke on behalf of his 25th reunion class from 1957. "Today's is a world that holds so much more promise than the world of 1953," he offered. "By comparison, the world of the early fifties was a closed world, a world hemmed in by the limits of tradition and circumstance. For all its untidiness, today's world is vibrant with motion and with possibilities. Today's is a world of new breakthroughs -- in technology, in science, in human relations."
He recalled being the only black student in his class at DePauw, at a time when Princeton had no blacks in its Class of 1957. Jordan says the "welcome changes extending human freedoms" of the past 25 years "were fought and resisted by many of us who failed to transcend the prejudices of our backgrounds. And many are still trapped with the prejudices of the past. But the world is still changing."
The civil rights leader continued, "Remember that the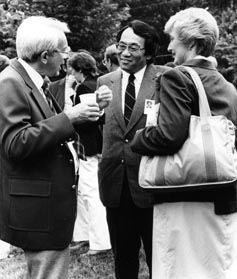 past always looks better than the present only because it isn't here. And as Cicero said: 'Let us not go over old ground, let us prepare for what is to come.' And what is to come will be more radically different than today is from a quarter-century ago. I would hope that we've gained the flexibility to adjust to coming changes, the wisdom to shape them, and the compassion to share them." (at right, l-r: Bob Breese, Chuck Iikubo '57 and Miriam Cole Breese '57)
Jordan concluded by calling on his classmates to "continue to care about our school. DePauw has been good to us. We should be good to DePauw, care for it, contribute to it, and make sure it represents the best of our democratic heritage."
Nearly 1,800 alumni and friends returned to campus for today's reunion, with some 1,200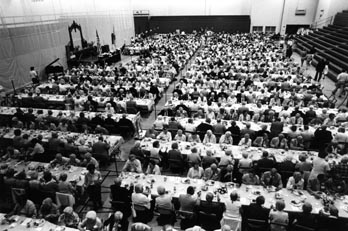 attending the convocation and 1,065 were served lunch in the new Lilly Center's Neal Fieldhouse.
Maybelle D. Hall, a retired teacher and member of DePauw's Class of 1912, had the distinction of being the oldest graduate present. She now resides in Vincennes, Indiana.
Yesterday, Vernon Jordan addressed an Alumni College session at DePauw and spoke on the topic of "Freedom in America." A story and accompanying audio of that addressed can be found in this previous story.
Back