Campus Climate Task Force Seeks Community Input
December 12, 2007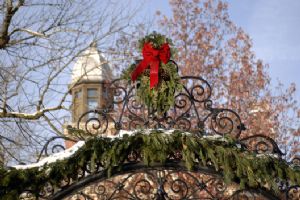 December 12, 2007, Greencastle, Ind. - "Residents of Greencastle are invited to share their insights, concerns and/or observations regarding the receptivity of the DePauw community towards people of color," begins an item published in today's Banner-Graphic. "As part of its work, DePauw University's Campus Climate Task Force for faculty, staff and students of color (CCTF) has compiled a Web site where people can anonymously share their insights and experiences -- positive or negative."
"It is important that we study where the University has succeeded in the past as well as how DePauw can make new steps forward," says Denise H. Hayes, Ph.D., associate dean of students and director of counseling and health services and task force chair, as her group began its work in August. "This type of change requires developing an image of what increasing diversity means for DePauw and working to determine who, what, where and how we can continue with our impetus."
The task force -- composed of DePauw faculty members, staff and students -- was created by President Robert G. Bottoms at the start of the Fall 2007 semester to review the progress of diversity initiatives and examine areas where work is still needed. The group has solicited student opinions through another online survey and held focus groups with
undergraduates and faculty and staff members. DePauw alumni, former employees and students who withdrew from DePauw prior to graduation will be contacted to participate in a survey that provides them an opportunity to share their experiences about DePauw's community.
The task force will make recommendations to Dr. Bottoms in the spring.
Access the story in the Banner-Graphic, find the survey here and learn more about the CCTF at the task force's Web page. Also available is this previous article.
Back