Junior Musician Wins Lafayette Symphony's Keller Award
December 13, 2007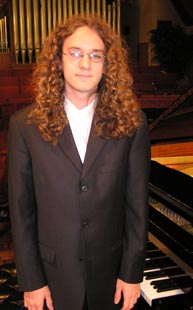 December 13, 2007, Greencastle, Ind. - Nathan Kross, a junior at DePauw University, is one of three recipients of Keller Awards, which honor the legacy of Alan Keller, the former treasurer and longtime supporter of the Lafayette (Indiana) Symphony Orchestra. Kross wins a $300 scholarship and the opportunity to perform in concert with the LSO this Saturday night.
"Kross is going for a double degree in piano performance and mathematics," notes the Lafayette Journal & Courier of the DePauw studnet. "He will be leading the LSO in Totentanz by Franz Liszt, a master composer whose music has been a part of Kross' life for years."
"I have been a huge fan of Liszt for a long time," Kross tells the newspaper. "Historically, his music has had a huge impact on my career. He was a colossal genius."
Tim Brouk writes, "Kross defends Liszt from classical music experts who may claim the Hungarian, 19th-century composer was all about virtuosity and showing off. Kross said good, tuneful music is underneath Liszt's fireworks. Kross has attended many recent Keller concerts and competed previously when he was 12. He is looking forward to hitting the Long Center stage. Kross said playing with the DePauw Symphony often has given him valuable experience but he is looking forward to playing with different musicians."
The Keller concert will take place at 7:30 p.m. Saturday at Long Center for the Performing Arts, 111 N. Sixth Street., Lafayette.
Access the complete story at the Journal & Courier's Web site.
Visit the DePauw University School of Music online.
Back