Guitarist Mike Wanchic '74 Reacts to Official Word that John Mellencamp is Rock Hall of Famer
December 13, 2007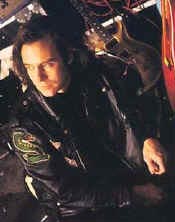 December 13, 2007, Greencastle, Ind. - "I don't think it's really necessary that we have that kind of validation," says Mike Wanchic of today's official announcement that his longtime collaborator, John Mellencamp, is being inducted into the Rock and Roll Hall of Fame. Wanchic, a guitarist with Mellencamp for more than 30 years and a member of DePauw University's Class of 1974, tells the Indianapolis Star, "Truthfully, being able to make records for 30 years and sell tickets and have a dedicated core audience -- that's enough validation. At the same time, to actually have the recognition of your peers is important. And it's appreciated by us, absolutely."
Other honorees include Madonna, Leonard Cohen, the Ventures and the Dave Clark Five. The five acts will be honored at a gala in March at New York's Waldorf
Astoria Hotel.
Access the complete story at the Star's Web site.
Mike Wanchic has served as leader of Mellencamp's band and co-produced nine of the singer-songwriter's albums. Wanchic has also produced a variety of other musicians, including Cowboy Mouth, Blessid Union of Souls, and James McMurtry.
In a December 2006 interview, Mike Wanchic called DePauw "a great experience."
Back