After Iowa, "Anything Can Happen" in Democratic Presidential Race: Prof. Ken Bode
December 14, 2007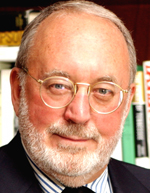 December 14, 2007, Greencastle, Ind. - With the Iowa caucuses three weeks away, Ken Bode offers a prediction in this morning's Indianapolis Star. DePauw University's Eugene S. Pulliam Distinguished Visiting Professor of Journalism writes, "coming out of the caucuses, Hillary will be weaker than the polls say she was going in. Democrats really want to win this time, and there is a deep fear that nominating Hillary is the least best bet to find a winner."
In his weekly op-ed, the former CNN senior political analyst states, "Hillary is the top tier candidate who will be helped least by the caucus mechanics. Remember, this is how it works. On the evening of Jan. 3, Democrats will gather mainly in school gymnasiums around the state. The first step is to divide into groups representing their favorite candidates. On the Democratic side, there is a 15 percent threshold, meaning that if supporters of Chris Dodd, Joe Biden and Bill Richardson don't meet that threshold, their supporters can make a second choice and join up with Clinton, Obama or Edwards. As the veteran political columnist Jack Germond puts it, 'Hillary
is nobody's second choice.'"
In the professor's estimation, "There is still a negative hangover from the Clinton years, and no one doubts that she is the candidate who will stir up Republican turnout, whoever that party nominates."
Dr. Bode believes that even if Clinton wins in Iowa, one of her rivals will emerge with a "bounce." He opines, "Hillary has the money, and if it's Obama who surges out of Iowa and into New Hampshire only five days later, you can bet that experience will be the issue du jour over that very important weekend. So, that's how it looks from here. Obama and Edwards will run stronger in Iowa than the polls predict, and Hillary will fade. Then it's up to New Hampshire, where independents can vote and anything can happen."
Access the complete essay at the College News.org.
Last week, Ken Bode previewed Republican Mitt Romney's speech on faith. Learn more in this previous story.
Source: Indianapolis Star
Back