Entrepreneur Angie Hicks '95 Profiled in Los Angeles Times
December 14, 2007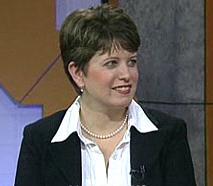 December 14, 2007, Greencastle, Ind. - Angie Hicks' first job was selling popcorn and hot dogs at the Fort Wayne (Indiana) Children's Zoo where, as a 16-year-old, she earned $4 an hour, notes today's Los Angeles Times. Hicks, founder and chief marketing officer of Angie's List and 1995 graduate of DePauw University, "expands into new markets every year; today (the company) has more than 600,000 members in 124 cities."
Hicks is featured in the Times' business section in a profile headlined, "Rejection came; so did success." It refers to her DePauw degree in economics and master's from the Harvard Business School. Andrea Chang writes that Hicks "started Angie's List in 1995 right out of college. Answered phones and went door to door in Columbus, Ohio, to market the business and sign up members."
The entrepreneur says she has been asked if her company -- which creates and maintains a list of home service providers and shares the data it collects with its customer base -- will expand and offer a dating service. "We just haven't done it yet. We're always adding new categories, so I can't say that it would be out of the question."
Read the complete piece at the Times' Web site.
Angie Hicks Bowman -- who was an economics major, Management Fellow and Rector Scholar at DePauw -- received the Distinguished Alumni Achievement Award for Management and Entrepreneurship from her alma mater over Old Gold Weekend. Learn more in this recent story.
Back