Composer Vincent Frohne '58 at Work on New Book
December 18, 2007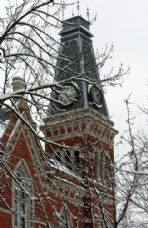 December 18, 2007, Greencastle, Ind. - A few of the "many high points in [the] lengthy composing career" of Vincent S. Frohne, a 1958 graduate of DePauw University, are recounted in Illinois' Peoria Journal Star. A retired university professor, Dr. Frohne is now an organist at St. Paul Church in Macomb and continues to compose at age 71.
Frohne's Adam's Chains for Soprano and Orchestra after W. Raleigh, W. Blake and S.V. Benet was performed by the Berlin Philaharmonic in 1969. As Gary Panetta writes, "judged by the opinion of his musical peers -- if not by musical directors of American symphony orchestras -- Frohne rates highly indeed. Born in LaPorte, Ind., Frohne began composing pieces when he was still a child and went on to study at DePauw University and the Eastman School of Music, where he earned a Ph.D. in 1962 and where he worked with legendary American composer Howard Hanson. In the years ahead, Frohne would enjoy a series of successes, netting a Guggenheim fellowship, a Fulbright and a Rockefeller Orchestral prize. No less than the Koussevitzky Foundation commissioned Frohne to write a string quartet in 1964, which put the composer in the rarified company of Samuel Barber, Walter Piston, Charles Wuorinen and others."
The story points out that Frohne has just released a compact disc, Music for Brass, and is now working on a book, Aesthetics and Creativity in the 20th Century, "in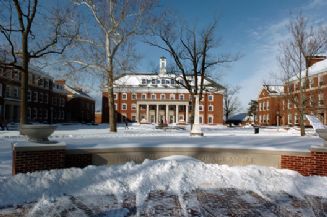 which he attempts, among other things, to come to terms with the legacy of the European avant-garde, a revolutionary movement which both opened new vistas and raised a new divide between the music-loving public and 20th century music," notes Panetta.
Dr. Frohne elaborates, "It's going to be about the structure of music -- and that's where the avant-garde abandoned these principles, principles of continuity, of growth, of variation. The avant-garde was trying to do away with these principles in order to come up with something new. But novelty is not always the end goal. Novelty is not always the thing one should seek. You have to have something worthwhile to begin with."
Access the complete article at the Journal Star's Web site. A video clip is also available here in which Vincent Frohne is interviewed and performs one of his compositions.
Back