Illinois Newspaper Talks with Lee Wilson '76 About His Holiday Book
December 16, 2007
December 16, 2007, Greencastle, Ind. - "Our pets can teach us important lessons about life. That's what Robert Lee Wilson discovered when he tried to write about how his family's Australian shepherd survived a series of near-death experiences last year," notes the Herald & Review of Decatur, Illinois, in a story on Buster's Christmas Letter: Lessons from a Dog's Tale of Survival. Wilson, the book's author, is a 1976 graduate of DePauw and member of the University's Board of Trustees.
"The first draft was a survival story," Lee Wilson tells the newspaper. "Then I realized that while the survival story was compelling, it was really just a backdrop for a bigger story about the relationship between Buster and my family."
Theresa Churchill writes that Buster's Christmas Letter "illustrates the truth of what (Wilson's) Deb has always told him, that feelings are more important than things."
The genesis of the book was the disappearance of the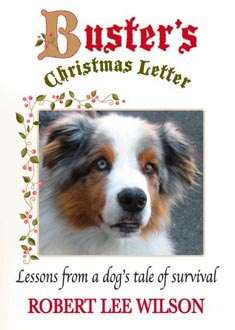 Wilson's family dog from their Greenwich, Connecuticut home in February 2006. After two weeks away from home, 12-year-old Buster was found and was featured in a local newspaper. "Public reaction was supportive, with people sharing stories about their pets, and this encouraged Wilson to write about his family's experiences with Buster as a way of thanking the community," Churchill reports. "His Christmas letter for 2006 was written from Buster's point of view, sharing the wisdom gained from the dog's several close brushes with that 'Big Kennel in the Sky.'"
Read the article in its entirety at the newspaper's Web site.
Lee Wilson appeared on Chicago's NBC5 November 30 with DePauw classmate Dick Johnson. A summary which includes video clips can be found in this story. You may also visit the author's online page.
Back