Former British Prime Minister Sir Harold Wilson Praises Nixon, Criticizes Thatcher at DePauw Lecture
September 21, 1981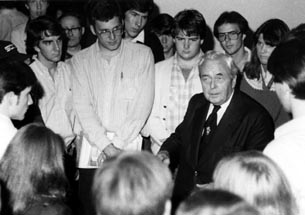 September 21, 1981, Greencastle, Ind. - Richard Nixon was America's "most able" president, in the view of former British Prime Minister Sir Harold Wilson, who spoke at DePauw University today. Wilson gives Nixon high marks for initiating talks with leaders of the Soviet Union.
"He got Russia to come to the negotiating table and that was something," Wilson said. "He did very well in foreign affairs."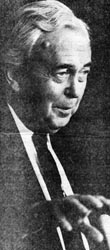 The prime minister from 1964 to 1970, Wilson "spoke of the need to beware of the current internal Russian situation, especially the Soviet economy," writes United Press International's Linda G. Caleca, who covered the event. "He said the worst mistake Russia ever made was 'going into Afghanistan -- they are being brought down there.' He said other nations should be wary of Russia as they would beware of 'the claws of a sick bear.'"
Noting its economic problems and food shortages, Wilson warned, "The Soviet Union is weaker than at any other time in the twentieth century. They are so prestige-conscious ... If Poland breaks loose, it would be a terrible loss of face. Face is very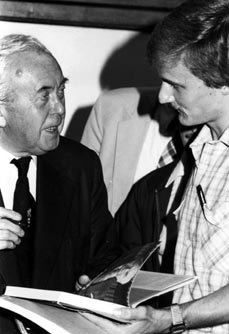 expensive in a totalitarian state."
Wilson gives former President Jimmy Carter poor marks. "After Watergate, one tends to vote for somebody from a different kind of state, one who has never been anywhere in his life except Sunday school ... He never really shook the world, did he?"
Current President Ronald Reagan, on the other hand, has "brought some confidence to the country and its economy," Wilson asserted. "But that doesn't mean I agree with every factor of his economic policy," he laughed. "I can't even understand it, let alone agree with it. Having taken over the most difficult system of government in the free world, he, in my opinion, is doing a very good job of it." (at left: Wilson with DePauw senior Kevin Armstrong)
The former prime minister stated that the sagging British economy was to blame for the Liverpool riots, not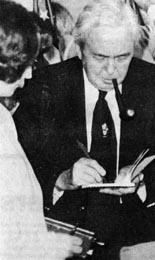 racial problems. "The riots actually came as a big shock to us because historically there had been no color problems in Liverpool," Wilson said. "What caused it was the very heavy unemployment and a steep rise in the cost of living over the years."
Wilson said that with 3 million Britons unemployed, conditions are worse than they've been in a half-century, and he criticized Prime Minister Margaret Thatcher's reaction to the problem. "I have not noticed any handling at all," he declared, adding, "They are leaving it up to the private enterprise."
A Labour Party leader and four-time prime minister, Sir Harold Wilson retired in 1976. In the time since, he has been a member of Parliament and has actively campaigned for Labor candidates and causes. He spoke in Meharry Hall of DePauw's historic East College and was welcomed by an overflow crowd of students, faculty members, alumni and visitors.
Harold Macmillan delivered DePauw's 1958 commencement address while he was the sitting prime minister of Great Britain. Learn more -- and access audio and video from the event -- in this previous story.
Back