Prime Minister's Sunday Speech Could "Affect the Course of World History," Says Star
June 6, 1958
June 6, 1958, Greencastle, Ind. - Prime Minister Harold Macmillan of Great Britain will journey to Indiana Sunday to deliver a speech expected to affect the course of world history," begins a story in the Indianapolis Star. "He will appear as the commencement speaker for DePauw University's 119th commencement exercises at Greencastle. It will be the first time that a British prime minister has visited the interior of the United States and the significant selection of Indiana rests largely on the fact that he is half-Hoosier -- the son of a Spencer girl."
The newspaper points out that Macmillan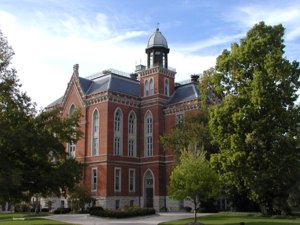 visited Indiana "as chancellor of the exchequer in 1956 to visit the old home of Nellie Belles and appear at services in the Spencer Methodist Church where he sang in the choir."
The Star also points out that NBC is televising the address from Blackstock Stadium nationally. The speech "is expected to touch on conditions in Europe caused by the unsettled situation in France ... The importance of his visit and remarks is attested by the accompaniment of some 50 correspondents from the leading American and British newspapers and wire services."
Read more about Prime Minister Macmillan's weekend visit in this previous story.
Source: Indianapolis Star
Back