New York Times Features Former DePauw Football Coach Bill Lynch
December 21, 2007
December 21, 2007, Greencastle, Ind. - Bill Lynch's recent appointment as Indiana University's head football coach is "the culmination of a long career in Indiana," notes today's New York Times. "He grew up in Indianapolis, played at Butler and later served as its coach. He has also been the head coach at Ball State and DePauw and was quarterbacks coach at Indiana in 1993 and 1994."
The story by Stephen Beaven examines the hardships endured by the IU program, which Lynch joined as assistant head coach in early 2005 after a season of leading DePauw's football team to an 8-2 record and sharing Southern Collegiate Athletic Conference 'Coach of the Year' honors. At IU, Lynch joined his friend, head coach Terry Hoeppner, who was later forced to step aside because of health problems (he died in June). (at right: Lynch with Peyton Manning before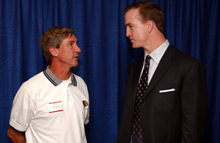 the Colts' quarterback's 2004 Ubben Lecture at DePauw)
Beaven writes, "the Hoosiers have prospered under Lynch," and after a 7-5 regular season will play in December 31's Insight Bowl against Oklahoma State. Lynch was rewarded with a new, four-year contract last month.
"Lynch is a low-key guy who keeps his feelings to himself and maintains a can-do outlook, even when the circumstances are bleak," notes the Times. "In many ways, the 53-year-old Lynch was the perfect replacement for Hoeppner. He had been a head coach at three Indiana colleges, and he had served as the top assistant in Bloomington in 2005 and 2006, filling in for Hoeppner when he was ill. The two men shared many of the same philosophies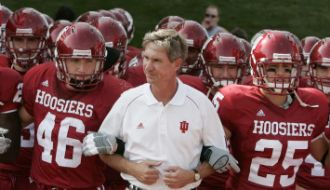 about football and family. But, in public at least, no one would mistake one for the other."
Lynch, writes Beaven, is "the steady son of a engineer who preaches incremental progress. Throughout the season, he kept the Hoosiers focused on the fundamentals of academics and practice. He believes in the importance of structure, said his son Billy, an assistant at Indiana. Lynch's motto is simple, if not inspirational: get a little better each day."
Read the complete text, "Out of Uncertainty, a Coach Brings Success," at the newspaper's Web site.
Back