Congress Must Assert Itself More, Opines Lee Hamilton '52
December 23, 2007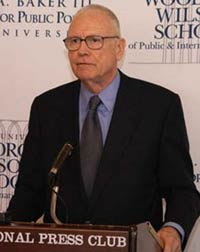 December 23, 2007, Greencastle, Ind. - "To the casual observer, Congress must seem unusually pushy these days," writes Lee Hamilton, the former congressman and 1952 graduate of DePauw University, in an op-ed. "Its Democratic majority is tussling with the White House over the budget. Senators are investigating the CIA's destruction of interrogation tapes. The House Oversight Committee has accused the White House of systematically impeding scientific inquiry into global warming. And hearings into past administration behavior -- from wiretaps to doings at the Justice Department -- continue. Aren't those politicians on Capitol Hill going a little overboard, you might wonder? The short answer is: No. Not even close."
Hamilton, who served 34 years in the U.S. House of Representatives and co-chaired the Iraq Study Group and 9/11 Commission, reminds readers of what America's founders established via the Constitution. "To keep the president from becoming too powerful, they not only created an equally powerful Congress, they explicitly gave it authority -- to declare war, to enact taxes, to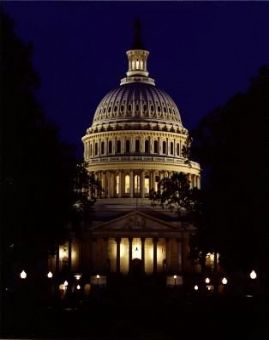 set the budgetary agenda -- designed to ensure that consultation, debate and the voices of the American people would all have a prominent place in the halls of power," he writes.
The balance of power is important, asserts Hamilton. "Yet over the last few decades, on issue after issue, Congress has slowly but inexorably ceded its constitutionally mandated responsibilities to the president. Presidents of both parties have sought and encouraged this trend, although it has accelerated under President Bush, who has pursued a definition of executive power more all-encompassing than that of any of his predecessors."
Now president of the Woodrow Wilson International Center for Scholars, Hamilton believes Congress has let recent presidents lead the way on hot-button issues such as spending and war. "To be sure, the world our nation faces is vastly different from the one our founders confronted or could even envision in 1789. In a difficult world, an increase in presidential power is appropriate. But a timid Congress is not. A Congress that reasserts its prerogatives as a co-equal branch of government, that insists on robust oversight of the executive branch, that sets its own agenda as well as responds to the agenda of the president, that exercises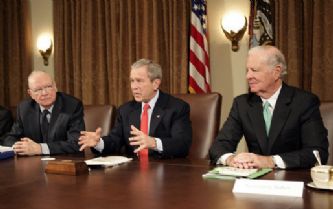 the powers given it by our Constitution when it comes to declaring war and deciding how the government will spend its money -- this would not be a Congress that weakens the president, but rather one that strengthens our democracy."
Access the complete essay at the Web site of Minnesota's Duluth Budgeteer News.
Lee Hamilton and James A. Baker III, co-chairs of the Iraq Study Group (pictured above with President George W. Bush), are among "America's Best Leaders 2007," according to U.S. News & World Report. Hamilton was also the subject of a lengthy piece in the December 12 Christian Science Monitor.
Back