Strong Admission Season Takes Shape as Year's End Nears
December 22, 2007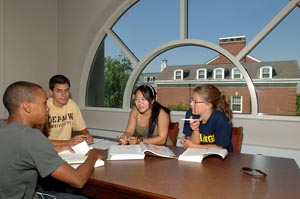 December 22, 2007, Greencastle, Ind. - Applications for admission to DePauw University for the fall of 2008 are running 3% ahead of last year's pace, and the number of students submitting early decision applications has climbed 33%. "From a quantitative and qualitative standpoint, we're pleased at where we are at this point in the season," says Stefanie Niles, vice president for admission and financial aid.
Through December 21, the University had received an even three thousand applications, compared with 2,905 at the same point in 2006. "Interest in the DePauw School of Music is especially strong, with 231 applicants so far this year," adds Niles. "That's an increase of 30 applicants, or 15%. The stunning new Judson and Joyce Green Center for the Performing Arts, coupled with the acclaimed programs and faculty members we have, are
contributing to what is a notable upturn."
Sixty young scholars have submitted "early decision" applications, up from 45 a year ago. Early decision is an option for students who, early in their senior year, are sure that they wish to enroll at DePauw. By applying early decision, a student states that DePauw is their first-choice university and, if accepted, will attend DePauw and withdraw all applications pending elsewhere.
Interest from international students in DePauw continues to rise. Forty applications have been completed by students who are not citizens of the United States compared with four a year ago, an increase of 900%.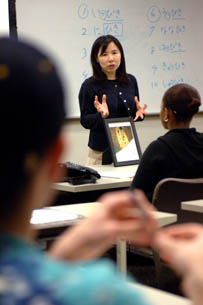 A total of 294 students of color have applied for enrollment next fall, a 19% increase from the December 2006 totals.
"The level of interest displayed by a diverse and academically gifted pool of applicants underscores the fact that DePauw is increasingly a top choice of talented students and that its reach is increasingly global," says Niles. DePauw hopes to enroll an incoming class of approximately 655 students.
Students at DePauw University are more academically engaged -- in and out of the classroom -- than undergraduates at peer institutions and the national average at all colleges and universities, according to the 2007 National Survey of Student Engagement (NSSE). The Open Doors 2007 report finds that DePauw continues to be one of the top colleges in the United States for the percentage of students who study abroad.
Prospective students who would like more information are invited to visit the admission office online.
Back