Choir of Joseph Flummerfelt '58 "Splendid," Opines New York Times
December 24, 2007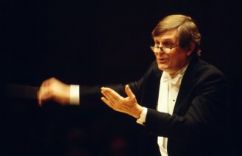 December 24, 2007, Greencastle, Ind. - In a review of the New York Philharmonic's performance of Handel's Messiah, the New York Times notes: "The contributions of the New York Choral Artists were beyond reproach; Joseph Flummerfelt's choir was equally splendid in moments of shattering climax and haunted contemplation." Flummerfelt is the former director of the Westminster Choir and a 1958 graduate of DePauw University.
In his writeup of the December 19 concert, the Times' Steve Smith notes that, for a few weeks each mid-December, the Messiah "is performed somewhere in New York almost every day. As holiday traditions go, this has certainly proved to be among the more durable. The New York Philharmonic threw its collective hat into the overcrowded ring just a few years ago, offering performances played by an instrumental complement scaled down to the proportions of a Baroque ensemble."
Read the full critique at the newspaper's Web site.
Learn more about Joseph Flummerfelt, who returned to the DePauw University School of Music as a visiting professor two years ago, in this recent article.
Back