Biologist and Environmentalist J. Nichols '89 Featured in E Magazine
December 27, 2007
December 27, 2007, Greencastle, Ind. - "The connection between turtles and the wider environmental movement is clear," Wallace J. Nichols, senior scientist at the Ocean Conservancy and 1989 graduate of DePauw University, tells E. Dr. Nichols is featured in the latest issue of the environmental magazine, and discusses his work with sea turtles and his environmental activism.
"Changes happening now are pretty amazing on many different levels," says Nichols. "I think of it as the ocean revolution. The media has become more interested in environmental issues and this is a reflection of people's interest. Politicians will follow. I don't expect policy to lead in making the changes possible; rather, it will follow because people demand it."

Nichols, who is seen in Leonardo DiCaprio's The 11th Hour and returned to campus this fall to participate in DePauw Discourse 2007, wears many hats, including "biologist, social scientist, activist, conservationist, writer, speaker and producer," writes E's Katherine Cure.
She adds, "this multitalented New Yorker has dedicated fifteen years of his life to a single mission: sea turtle conservation. And his efforts have seen fruit. Working with marine turtles and local communities in Baja, California and
Mexico, where almost all species have representation, the program he leads has resulted in positive responses in population numbers and changes in local livelihoods to include more sustainable practices. The secret? Working closely with local communities, the ones formerly involved in hunting turtles and poaching eggs, who've now become dedicated to their protection. A firm believer that locals are both the problem and the solution, Nichols has focused efforts on changing social perspectives, introducing alternate sources of income and empowering communities to initiate their own conservation programs."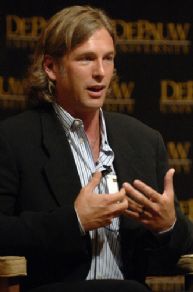 Nichols, who goes by his middle initial, is also president of the International Sea Turtle Society and a researcher for the California Academy of Sciences. He declares, "We need to make major policy shifts, major shifts in the way we do business and in how people live. This is much more likely to happen as people become more aware, and as people like you at E magazine and others, contribute to getting the word out. Every magazine has had a green issue this year. Last year wasn't the same. CNN has major investments in programming on the environment and a number of films have come out. There is a movement in the right direction, with a lot of different strategies and angles."
Access the complete piece -- headlined "The Blue Movement: Wallace J. Nichols Fights for Sea Turtles" -- at the magazine's Web site.
Learn more about J. Nichols in this previous story.
Back