DePauw's First African-American Graduate, Tucker Wilson (1888), is Remembered
May 2, 1997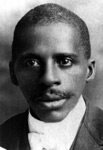 May 2, 1997, Greencastle, Ind. - "As an African-American faculty member, I stand on the shoulders of Tucker Wilson," said Andrew Williams, director of black studies at DePauw, during a tribute today. Wilson was honored posthumously today as the University's first African-American graduate. The ceremony was attended by his descendents.
"I recognize his courage, his hard work, his thick skin," said Williams. "He paved the way for the opportunities we enjoy today."
"We're proud to be here," declared Dwight T. Wilson, grandson of Tucker Wilson. "We're proud of this moment. We're very thankful that President Bottoms and the Board of Trustees and this University invited us here today."
During the tribute, DePauw President Robert G. Bottoms presented a plaque to the Wilson family. Also, a picture of Tucker Wilson, which will be displayed in the Office of Admission, was unveiled.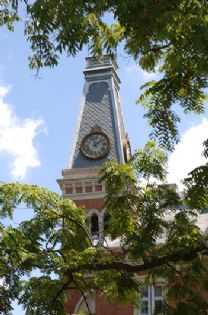 Tucker Essily Wilson was born in Shelby County, Kentucky, in 1859. He enrolled in the preparatory department at DePauw in 1882. After two years of studies, Wilson entered the University's regular program of study in 1884. At the 1888 commencement ceremony, he was one of 17 graduates selected to give a presentation.
"Clearly a lot has changed at DePauw since 1888," Dr. Bottoms said, noting that African-Americans make up 6.7% of the current student body. "Clearly a lot more needs to change."
Williams urged the many DePauw students who attended today's ceremony to keep battling for freedom and liberty. "My hope is that we're inspired to continue our struggle for the full inclusion of African-Americans in the United States," he said.
Back