NFL Dream of Jay Pettigrew '97 Hits a Roadblock
July 9, 1997
July 9, 1997, Greencastle, Ind. - Jay Pettigrew, a 1997 graduate of DePauw University who had signed a free agent contract with the Green Bay Packers, was today placed on waivers by the National Football League team. The 6-foot-4-inch tight end was the only Packer rookie free agent to receive a signing bonus but suffered a hamstring pull during the team's mini-camp.
"It's a numbers game," says Pettigrew. Before being hurt, "I was picking up the plays, I was diving for balls, and I feel I can be as good a blocker as anyone they have once we get the pads on." He adds, "My position coach in Green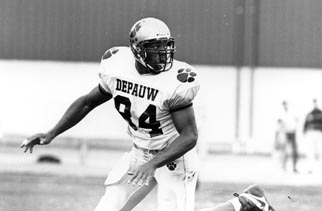 Bay said to me: 'I've had to tell guys from Division I that they didn't have what it takes to make it.' He told me I've got skills, it was just the wrong situation."
Pettigrew who rewrote the record book while playing football at DePauw. He logged 38 consecutive games with at least one reception, a mark that stands as the record for all divisions of NCAA football. He was co-captain of last fall's 9-1 DePauw team and was president of Kappa Alpha Psi fraternity.
While playing at Northwest High School in Indianapolis, Pettigrew was recruited by Purdue University. However, in the end, all Purdue could promise was the opportunity to be a walk-on. Without an athletic scholarship
to entice him, Pettigrew chose the black and gold of DePauw.
"Jay was one of those guys Coach Nick [Mourouzis] recruited thinking he was going to go someplace big and we would just sort of hope he came," recalls veteran recruiter and Tiger defensive coordinator Tim Hreha '73.
"Hey, more and more, I think DePauw was the best decision I could have made," says Pettigrew.
"I think Jay is the best tight end I have been around in my 36 years of coaching -- even the Big Ten guys," declares Mourouzis.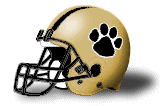 Ted Katula, a former assistant football coach and now director of athletic fundraising at DePauw, concurs. "If Jay Pettigrew leaves for Bloomington on Friday, he's the starting tight end for Indiana [University] on Saturday."
Alan Hill signed a free agent contract with the Dallas Cowboys after graduating from DePauw in 1981, but was cut during training camp. The Class of 1982's Dave Finzer wound up punting in 28 games over two seasons (1984-5) for the Chicago Bears and Seattle Seahawks. Greg Werner, a 1989 graduate who held many of the records Pettigrew broke, played tight end for the New York Jets.
Back