Three Appointed Vice President in Administrative Reorganization
July 1, 1997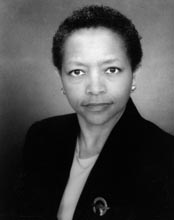 July 1, 1997, Greencastle, Ind. - An administrative reorganization designed to support the efforts of "The Campaign for DePauw: Leadership for the 21st Century" has resulted in three new vice presidential appointments, which are effective today.
Theresa F. Bryant (photo at top left) has been named DePauw's new vice president for public affairs. She comes to the University from the College of Notre Dame in Baltimore, where she served as director of presidential affairs. In her previous role, she coordinated activities of the board of trustees and served as assistant secretary of the board, and was the president's liaison for legislative and community affairs. Bryant represented the president at events and directed special college events. At DePauw, she will be responsible for coordinating communication with all of the University's external publics as well as the Board of Trustees and other external advisory boards.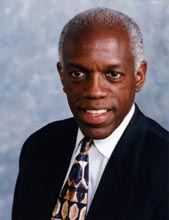 James L. Lincoln (seen at right) is the University's new vice president for student services. He was formerly vice president for enrollment at Grinnell College in Iowa. At DePauw, he will assume overall leadership for the student affairs office and responsibility for academic services, intercollegiate athletics, the chaplain's office, and the Grover L. Hartman Center for Civic Education and Leadership. In addition, Lincoln will work with the University's Board of Trustees on student services issues.
Also, Madeleine R. Eagon, formerly dean of admission and financial aid, has had her position raised to the vice presidential level. The former director of admission
at Whitman College and a consultant for The College Board, Eagon came to DePauw a year ago.
In a related item, Provost Leonard M. DeLillo has announced plans to retire next year. The provost position will not be filled, but split into a vice president for academic affairs position (for which a search has begun) and the student services vice presidency that Lincoln assumes.
Founded in 1837, DePauw University is a selective, coeducational, liberal arts university with nationally recognized academic programs. Fortune magazine in 1990 ranked DePauw 11th among all colleges and universities in the nation in terms of the likelihood that its graduates will become chief executive officers of top American companies. DePauw ranks 12th in the nation among private liberal arts colleges and universities as the baccalaureate source for Ph.D. degrees in all fields, according to a 1990 survey by Franklin and Marshall College.
Back