Prof. Sunil Sahu Recalls Benazir Bhutto's DePauw Visit in Terre Haute Tribune-Star
December 30, 2007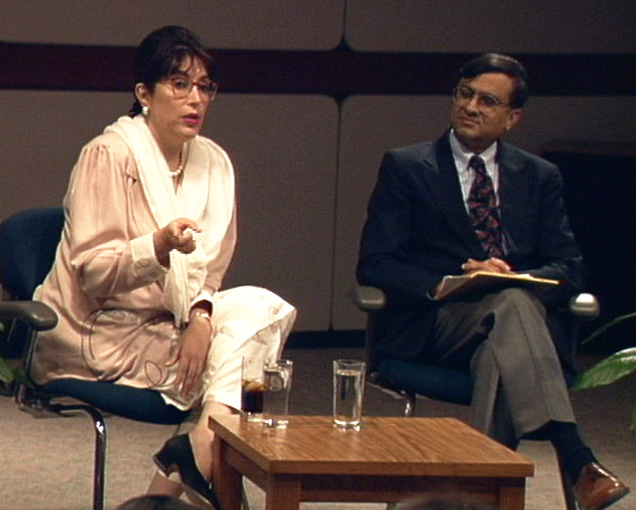 December 30, 2007, Greencastle, Ind. - "She connects very well with the masses, especially with the poor people," says Sunil Sahu of the late Benazir Bhutto. Sahu, professor and chair of political science at DePauw University, is quoted in today's Terre Haute Tribune-Star, which recalls the May 7, 1997 visit to DePauw by Bhutto, the former prime minister of Pakistan, who was assassinated Thursday. Dr. Sahu says Bhutto was capable of making people "feel comfortable and she could talk in their own language. She could talk in English. It doesn't matter what language she is using, people feel comfortable." (at left: Bhutto with Sunil Sahu, DePauw professor of political science, in Watson Forum)
The article by Austin Arceo, a 2006 DePauw graduate, notes that Professor Sahu moderated a question-and-answer session with Bhutto that followed her Timothy and Sharon Ubben Lecture at DePauw. "Sahu said that only a few people accompanied Bhutto
during her visit, none of which were security personnel. He spent several hours with her, including driving her back to an airport in Indianapolis."
The story adds, "Bhutto's assassination creates several problems, both in Pakistan and for the United States, Sahu said. She was the leader of the Pakistan People's Party, the only national party in the country. Her assassination also will cause political instability in the short-term, Sahu said. 'She was also the leader of a party which is kind of a moderate party, as opposed to a more Islamacist party in Pakistan,' Sahu said, 'so she had the backing of the U.S.' The United States tends to support individual leaders in power, Sahu said. Now, the U.S. has no other leader to support, since the only other prominent one, Nawaz Sharif, doesn't see eye-to-eye with the U.S., Sahu added."
Of Bhutto's killing, Sahu states, "It surprised me and it didn't surprise me. If

you are a politician in South Asia, it is almost impossible to fully protect yourself against a group like al-Qaida, which is bent upon killing you."
Read the complete story, "Assassinated former Pakistani leader spoke at DePauw in '97," at the newspaper's Web site.
Friday's Indianapolis Star also noted Benazir Bhutto's DePauw visit.
A summary of the former prime minister's Ubben Lecture, including a video clip, can be found in this article. Video of the student forum with Bhutto that was led by Dr. Sahu is embedded below.
Source: Terre Haute Tribune-Star
Back