Bhutto Assassination Brings "Defining Moment" to US Presidential Race, Prof. Ken Bode Tells Chicago Sun-Times
December 31, 2007
Also: Benazhir Bhutto at DePauw - May 7, 1997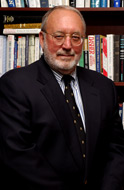 December 31, 2007, Greencastle, Ind. - As the world mourns the death of former Pakistani Prime Minister Benazir Bhutto, "This is our opportunity to see how our candidates react who want to be president," Ken Bode tells the Chicago Sun-Times. "It will be a genuine defining moment for Americans to see how smart and intuitive they are." Bode, Eugene S. Pulliam Distinguished Visiting Professor of Journalism at DePauw University, is cited in a column by Carol Marin, a former Chicago television news anchor.
Noting that Bode "was a longtime NBC and CNN national political correspondent" and, Marin calls the professor an "old friend (who) helped me with my political education." She writes, "When he left the life of a network correspondent, Bode moved to DePauw University, where he invited Bhutto to speak to his journalism students. At the time, Bhutto was living in exile in London. In Greencastle, Ind., he said she was casual and charming." (at right: Benazir Bhutto speaking at a student forum in DePauw's Center for Contemporary Media, Watson Forum)
In the wake of Bhutto's assassination,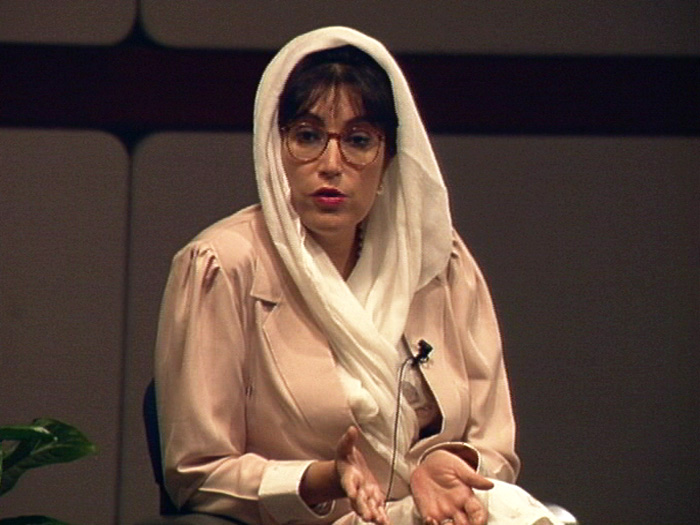 Marin continues, "Bode says it's a time to watch carefully for anyone 'who shoots from the lip on this and who tries to use what happened in Pakistan to gain advantage in the presidential political race.' On the Democratic side, this focus on Pakistan comes at a time when Sen. Joseph Biden, chairman of the Senate Foreign Relations Committee who has long lectured on its importance, is claiming to have picked up some momentum. On the Republican side, terror in Pakistan may give former New York Mayor Rudy Giuliani some of the oxygen he's lost lately and even more to Sen. John McCain who, like Biden, has been talking about Pakistan for a long time."
Marin's column concludes, "In the closing four days of this rugged, neck-and-neck race for Iowa, there's going to be a real temptation for candidates to show us how strong, how tough they are. Far less sexy, far more important is just how considered, and temperate they can be." (at left: Carol Marin at DePauw on November 14, 2002, interviewing student Shavonne Taylor)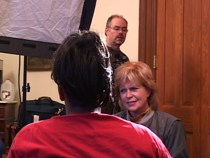 Access the complete text at the Sun-Times' Web site.
Benazir Bhutto visited DePauw University on May 7, 1997, under the auspices of the Timothy and Sharon Ubben Lecture Series. A summary of that day can be found in this previous story.
In recent days, Bhutto's trip to Greencastle has also been noted in articles in the Indianapolis Star and Terre Haute Tribune-Star.
Read about Ken Bode's most recent Indianapolis Star op-ed, published Friday, by clicking here.
Source: Chicago Sun-Times
Back