Newspaper Lists Indiana BMV Chief Ron Stiver '96 Among 2007's 'Winners'
January 2, 2008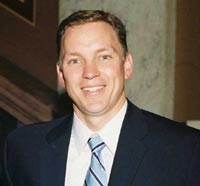 January 2, 2008, Greencastle, Ind. - In its year-end scorecard for 2007, the Fort Wayne Journal Gazette lists the Indiana Bureau of Motor Vehicles as a "winner." The newspaper states, "Under new director Ron Stiver, BMV pushes true innovations to improve service." Stiver is a 1996 graduate of DePauw University.
Access the item at the newspaper's Web site.
In July 2007, the Indianapolis Star praised Stiver's leadership. "BMV, a government operation with a bad reputation only a year ago, seems to be prospering from an infusion of enlightened management. It's now being run like the near-billion-dollar business it is," stated an editorial. Read more in this previous story.
Back