Stubborn Tiger Defense Holds; Monon Bell Ends in Scoreless Tie
November 16, 1935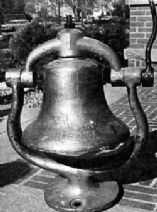 November 16, 1935, Crawfordsville, Ind. - The Monon Bell will stay in the possession of Wabash College for another year, as a result of today's scoreless game between the host Little Giants and visiting DePauw. The Tigers' Hal Hickman (pictured below) intercepted a Wabash pass at the DePauw 20 yard line late in the 4th quarter to stop a drive by the home team.
The tie ends DePauw's 1935 football season at 5-0-2, while Wabash ends at 6-1-1. The Little Giants had outscored their opponents 211-30 heading into today's contest, which was played on a muddy field in cold conditions.
DePauw's defense turned in a gritty effort, holding Wabash to two completions in ten pass attempts and intercepting three tosses. Wabash amassed 15 first downs on the day to the Tigers' six, but never got closer to the goal line than DePauw's 15 yard line.
About 3,000 fans attended today's game.
View a "Monon Memory" of the 1935 Monon Bell Classic here:

[Download Video: "1935 Monon Memory" - 3219kb]. A complete roster of the video clips -- written, produced and narrated by Ken Owen '82 -- can be accessed by clicking here.
For comprehensive information on one of college football's greatest rivalries, visit the Monon Bell Web page.
Back