'Monon Memories' Now Exist for Every DePauw-Wabash Game Since 1932
January 2, 2008

[Download Video: "2007 Monon Memory" - 7808kb]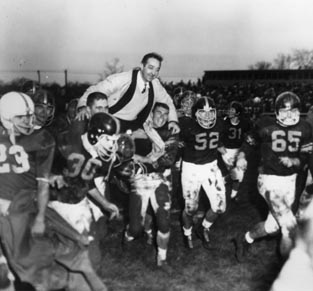 January 2, 2008, Greencastle, Ind. - With the completion of the 1934 "Monon Memory" tonight there are now video clips for all seventy-six Monon Bell Classics. The project was launched by DePauw University in 2002 as a way to promote and commemorate the football rivalry with Wabash College, which itself dates back to 1890. The clips include film or video footage when available, as well as archival photographs and newspaper clippings.
"It started as a way to fill time-outs during our national telecasts," says Ken Owen, executive director of media relations at DePauw, who came up with the concept for "Monon Memories" while doing planning for the 2002 telecast, which he oversees each year for the University. "We were coming off of the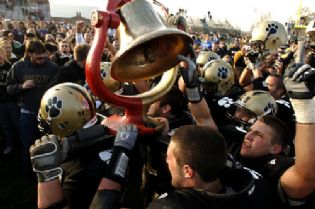 dramatic 2001 game, which was the obvious starting point, but I knew there was a lot of terrific material in the DePauw Archives. Little did I know what a treasure trove I'd find."
Owen started with the notion of creating ten-to-twelve clips so the TV producers would have some to choose from. Almost six years later, he's now created vignettes for each of the contests since the Monon Bell was introduced to the rivalry in 1932. The 1982 DePauw graduate's goal is to create clips for the 38 remaining DePauw-Wabash games going all the way back to, yes, 1890.
"What I'll uncover is anyone's guess, but my experience
to this point gives me confidence that there will be sufficient material to do it," says Owen, who has also received "invaluable assistance" from Wes Wilson, coordinator of DePauw's Archives and Special Collections and his staff, as well as Bill Wagner, sports information director at DePauw; Matt Bowen, University photographer; and Jim Amidon, his counterpart at Wabash College.
Among the treasures that can be seen in the "Memories" and enjoyed in full at DePauw's Archives:
Film footage of football games dating back to the 1938 contest with Evansville.
Videotape of the 1977 game, which was televised by ABC Sports and featured Jim Lampley on play-by-play, and the 1994 battle for the Bell, carried by ESPN2.
Old and recent game day programs and vintage photographs.
"Monon Memories" have been included as bonus material on recent Monon Bell DVDs. This year's edition, which is nearly sold out, contains all 69 of the "Memories" that had been completed by the 2007 game.
Lower resolution versions of the clips are also available online and can be accessed by clicking here.

[Download Video: "Ballad of the Monon Bell - 2007 Version" - 10,419kb]

[Download Audio: "Ballad of the Monon Bell - Stereo" - 2514kb] For comprehensive information on one of college football's greatest rivalries, visit the Monon Bell Web page.
Back